What Makes Custom Golf Umbrellas Proven Promotional Merchandise?
Marketers often use custom golf umbrellas for promotional purposes and to spread the name of their company. The massive imprint space on the canopy will make a high visibility creative canvas to position the logo, message and contact information of businesses that will be visible to everyone on the golf course. Every time the umbrella is open, the company's message reaches out to a massive audience  in the greens and beyond.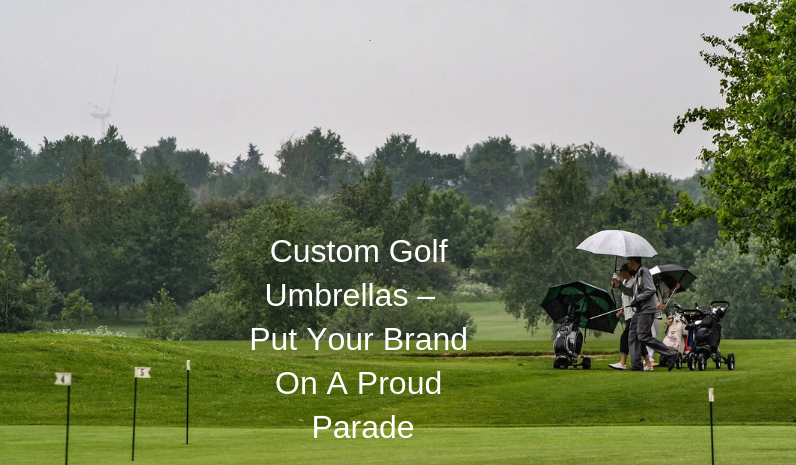 Golf umbrellas make a perfect choice for golf themed events, corporate golf holidays and promotions of golf clubs and leagues.  The best part is that golf umbrellas are  equally popular among non-golfers as well. Thanks to its trending colors and fashion prints, these massive umbrellas make  a brilliant choice for a small group of friends or employees that wish to move under a single umbrella.
Golf umbrellas can also be used to raise funds to support social causes. By ordering in bulk, you get golf umbrellas at incredibly low rates, which makes it easy for marketers to sell it off  at a higher rate to raise funds. Golf gifts are very popular among businesses because these attract large business investments.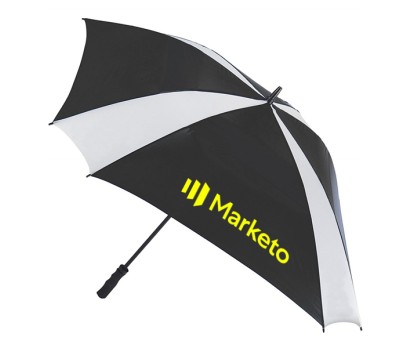 What's the best golf umbrella?
Golf umbrellas are popular among those who love sports and even for those who just want a big umbrella. Designed to resist wind, water and lightening , these accessories will enjoy a long term retention that will be rewarded many times in the future. So, if you are looking for a custom umbrella that offers protection, style, and value, look no further than golf umbrellas.
There are several essential elements to consider while scouting for custom golf umbrellas.
Design
Umbrellas with fiberglass ribs and frames  can withstand winds and rain with ease and make a reliable choice for the players. Highlight your brand identity while ensuring a stylish golf umbrella that your prospects will love to show off. As your golf loving clients and employees are likely to spend a lot of time in the golf greens, it is important to choose visually appealing  golf umbrellas in brilliant colors, stripes or full color canopy that complement the customization of your umbrella.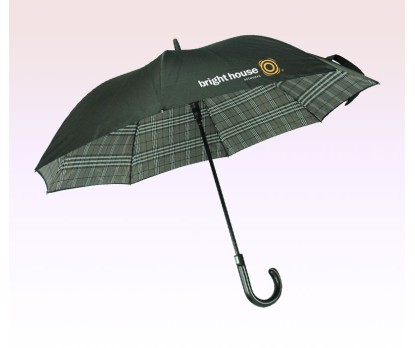 Size matters
Size matters when buying a golf umbrella. It is recommended to obtain the largest size for maximum protection for the player , the team and the golf bag.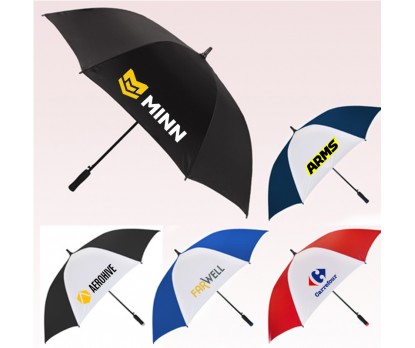 Wind Resistance
The wind resistance of the umbrella you choose make a crucial factor while choosing golf umbrellas. When the golfers are out in the middle of  the greens with no shelter nearby, the last thing he wants is to end up with an umbrella that's turned inside out. Choose unique models like double canopy golf umbrellas or vented canopy among others that will let the wind pass by without damaging the umbrella.
Need more tips? Our team is only a call away.