What Makes Promotional Umbrellas Excellent Marketing Tools
Most successful advertising works on a pattern of repetition. That is what makes daily use items like custom umbrellas great marketing tools. Most people do not like the idea of listening to the same advertisement on TV or radio on a daily basis or read the same ad in newspapers every other day. But promotional gifts like custom umbrellas will make effective marketing tools that will repeatedly deliver the business message to the target audience effectively. Humor, drama and endorsements sell products, which make these three popular marketing formats for business owners. Promotional products not just promote your products and brand but will also provide your customers with something that they can actually use.
Promotional products are a $19.8 billion dollar industry that involves countless custom items of all possible genres. Every time your business hands out a custom product that bears your brand, it will get actively used not just once but over and over again. The best part is that every time it is used, your message is delivered right where you want it thereby ensuring the maximum value for your promotional dime.
Promotional products top the list of marketing tools in this aspect. By personalizing these products with your brand and message you can get your message out on a low rate. Custom umbrellas make great custom hand outs to promote business, build customer loyalty and create new sales. If you are looking for a tried and tested business building method that everyone can afford, look no further than custom umbrellas. No matter whether you want to build a customer base, introduce a new product line or create new leads, custom umbrellas will make perfect choices. While flyers and newspaper ads have only a very short shelf life promotional items make value added promotional items that enjoy a long retention.
So, if you think flyers and brochures are getting trashed quickly than you expect and are ending up in piles of garbage without making any impact, it is high time to consider these logo items. Business promotional emails end up in spam while custom products make long lasting tokens of your brand that will leave a long lasting impression.
Promotional products make a futuristic and sensible investment for your business and a cost effective way to get your message out to the masses and to put your brand right in front of your audience. An appropriate promotional product along with the right target market can generate sales. Custom products keep your company at the top of consumer's mind every time your recipients use these useful items.
Custom umbrellas will make appealing gifts to all age groups and demographics, which means that these logo items can be employed to promote all types of business promotions and events. The best part is that logo umbrellas are available in a range of models, colors and sizes that you can easily choose an item that matches your color theme or promotional needs.
To help you get started, we are listing out a few of our best selling models.
Golf umbrellas: Golf is not just a leisure time game but a way of life and a passion for most Americans who follow the game of golf closely. The massive imprint area of golf umbrellas will make it a high visibility billboard for your brand. Personalize these with your brand and message to make it seen not just in the greens but beyond as well.
Mini Umbrellas: As they say, good things come in small sizes and these mini umbrellas will ensure the much desired portability and exposure for your brand. These cute umbrellas in attractive color choices fare well not only as promotional items but style accessories and fashion props as well.
Beach umbrellas: Nothing says beach promotions and outdoor events like beach umbrellas. The massive canopy and the vibrant color choices of these umbrellas will make high visibility promotional items. Be it to announce a new product line, drive a special sales or publicize business events, these logo umbrellas will make great choices.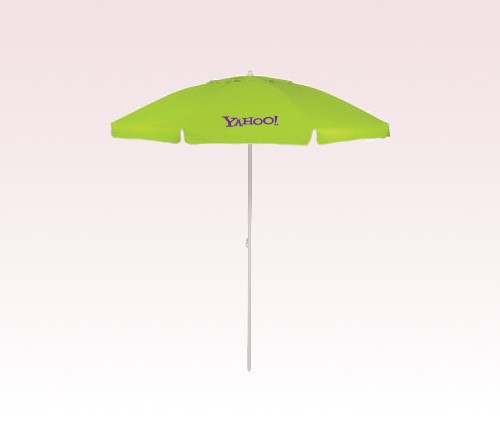 Antiwind umbrellas: Functional items that your recipients can actually use every day will make the best custom gifts and these highly functional antiwind umbrellas will make a great promotional item for the same reason. Designed to counter powerful wind gusts, these strong umbrellas will leave a long lasting brand impression in the minds of your customers.
We have a lot more innovative and popular models in our custom umbrellas. Browse along and choose a model that suits your needs.