Why Umbrellas are Something Every Hiker Needs
Summer is the best time for most people to indulge in an enjoyable spell of hiking and mountain climbing. Probably the most important thing to pack in the trekking bag will be an umbrella to cope with bad weather and make sure that their trip is not hindered.
Hiking clubs, event planners and in fact any business niche can adopt custom umbrellas as their promotional swag to inspire their clients and employees to hit the trails and enjoy their favorite leisure activity.
 Raincoats can weigh down the hikers and could leave them sweaty. This is where light weight, wind resistant umbrellas come to the picture. It will protect the users from rain while leaving them comfortable and cool while hiking. It is not just the rain that plays spoil sport during hiking holidays as walking in the sun is no fun either.
Umbrellas also provide important sun protection and UV safety. It is easy for most people to think that the sun is not burning over the hills and hence they are safe from UV risks. In fact , the invisible UV rays  are present in the atmosphere all-round the year even in winter when the sun is not even visible! So, it is highly recommended to carry a UV resistant umbrella to stay safe from sun while hiking in the summer.
An auto open umbrella will not just protect the head from the sun but also prevent the face, neck and ears from being sunburned. By keeping the body cool , the need for the hikers to cool off the body can be reduced considerably. Umbrellas will not just help the users from the direct exposure of sunlight but also help them stay cool while hiking.
Antiwind umbrellas make a perfect choice for hikers. The vented technology will let the wind pass through the umbrella easily without building up pressure inside thereby ensuring more stability during winds. Choose from a wide range of models with reinforced frames and light weight fiberglass design that will make these umbrellas lightening resistant as well.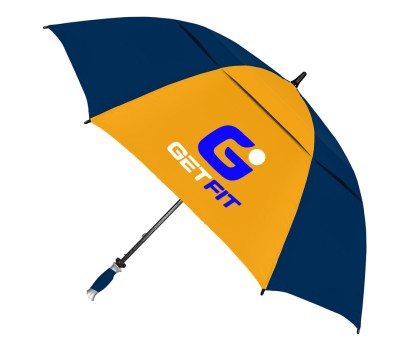 If you are looking for  bigger model, these extra large golf umbrellas will make a perfect pick. The massive canopy will set a perfect backdrop for your message and artwork while your recipients have a trendy, colorful umbrella that will get theme easy attention. Win-win!
How do you plan to use custom umbrellas in your promotions? Share your thoughts with us on our facebook page