Your Complete Guide for Buying custom Umbrellas
There are many reasons why people decide to buy umbrellas. It could be for specific events or celebrations or to simply stay safe from bad weather or better still to enhance the style of their dressing. Businesses that plan to hand out custom umbrellas should consider these factors before choosing a model.
Canopy Style
The canopy of the umbrella is the selling point of these promo items.  Standard umbrellas and mini umbrellas have regular size canopies that make it ideal for everyday use.
Some models like golf umbrellas may have a bigger canopy to shield the players and the caddy. So, you can choose a size that matches the needs of your audience for best results. You can even choose from innovative models like clear umbrellas  or inverted umbrellas to stand out in style.
Choose the Right Size
If you have an audience that is on the move, choose a compact umbrella that would not take up much space. Pick up subtle and classic colors that are not too bright to match the tastes of this audience niche. You can get your logo and message imprinted on the panel or even on the inner canopy for a subtle effect.  In some models, you can also customize the handles and umbrellas cases for added exposure.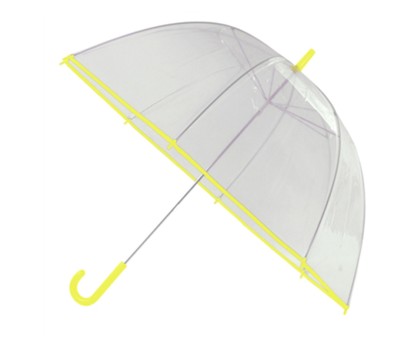 Once you identify the purpose of buying an umbrella you can then decide the umbrella sizes you may need. If you are buying custom umbrellas for holiday events or a festival, choose umbrellas in bright colors and trendy prints. Customize it to match the occasion and round off the winning profile of these umbrellas
Umbrellas are also widely being used as awareness items for various social causes like breast cancer awareness, child abuse and more. Choose umbrellas in your company colors and get it imprinted with your brand or any other information you would like.  These will create awareness among your support groups.
 Umbrellas also make great fund raising items because of its utility.
Consider the Cost
Your budget is an important factor to consider while buying custom umbrellas.  Placing bulk orders is a sure fire way to get the best deals.  Being budget savvy doesn't mean that you can afford to buy cheap items as it will cast a negative image for your brand. Choose budget friendly yet quality models that will enjoy a fairly long retention to serve your promotional scope.
Now that you have a well customized umbrella, your message is all set to be noticed by scores of people on the road to make countless impressions each day.  Invest in custom umbrellas to take your outdoor promotions to the next level.