4 Ways Custom Golf Umbrellas Can Strengthen Your Customer Relationship
If you thought golf umbrellas will only impress golf players you could be in for a surprise. The durability, eye popping canopy size and the brilliant color choices of golf umbrellas will make them endearing gifts for everyone. A fine quality golf umbrella will get a long retention and by investing in these corporate gifts you can create a formidable brand identity for your business.
Here are some tried and tested ways to employ golf umbrellas in your marketing mix.
As thank you gifts
Golf umbrellas make great thank-you gifts for your high value and regular clients or as milestone celebration gifts. Choose a golf umbrella in your corporate color for added impact. Imprint these umbrellas with your brand, message or even artwork to tug the hearts of your audience. Every time, your recipients use these attractive branded golf umbrellas during picnics or golf weekends, your brand will get a lot of attention.
Referral gifts
Golf umbrellas make great referral gifts for your existing clients every time they generate referrals. This is a great way to encourage your clients and customers to refer your brand to their friends and well wishers. Word of mouth publicity is considered as one of the most powerful forms of advertising even today in this digital world. Make a buzz for your brand with these attractive umbrellas to show appreciation to enhance customer care services and even to please the unhappy customers if any!
As business promotional gifts
Umbrellas make perfect choices for developing business too and to sway the prospective clients towards your product. You can hand it out as gifts for customers making purchases above a certain amount or as contest gifts or year-end gifts to your customers. Golf umbrellas make head turning gifts that are hard to resist; make the most of these freebies to reinforce your brand.
As loyalty gifts
A loyal customer base is the bedrock of any successful business organization.  If you have some strong leads on hand, value added gifts like golf umbrellas can be used to sway them towards your brand. You can easily and effectively employ these logo items as loyalty incentives for a series of purchases. This will not just make the customers feel special but will enhance their brand loyalty.
Now that you have a clear overview of custom golf umbrellas, here are some trending models in golf umbrellas that you will find interesting
Steel Golf Umbrella w/ 8 Colors Built to withstand the strong winds of the golf courses, these sturdy umbrellas make a great corporate gift for teams and players. It can also be used to promote golf clubs and   leagues during the season.  Customize these with your brand and message to make it a high visibility handout that everyone will love.
Vented Custom Promotional Umbrellas  Offered in a palette of 10 colors, these golf umbrellas with vented windproof canopy will make a must have for the golf bags. The fiberglass frame with blonde wood grip handle will make it less conductive to lightning and light weight.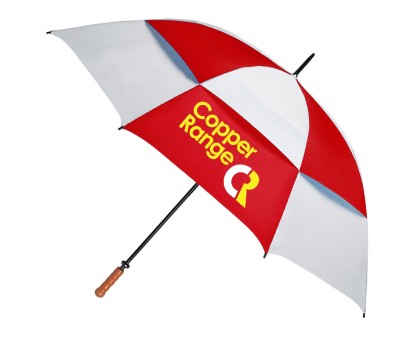 Auto Open Wind Proof Heavy Duty Square Golf Umbrellas: Stand out in the greens with these square golf umbrellas with double layer windproof canopy and comfortable handle. Your brand on these square umbrellas will get the undivided attention of the players and audience alike.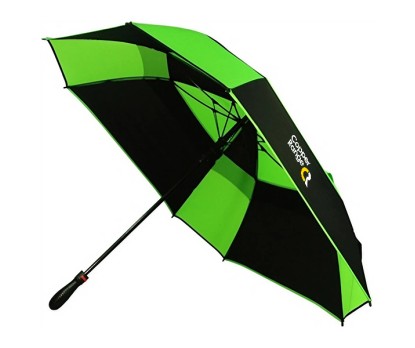 Which of these golf umbrellas are your favorites? Share your thoughts with us at our facebook page