5 Advantages that make Custom Golf Umbrellas High Visibility Promotional Gifts for Business
Custom golf umbrellas are popular promotional gifts and advertising tools. Though these are a bit costly, the long retention and the repeat impressions will ensure the best value for the money for marketers. Imprinted golf umbrellas enjoy consistent visibility and will put your brand on a panoramic display at the golf greens, beaches and camping sites among others.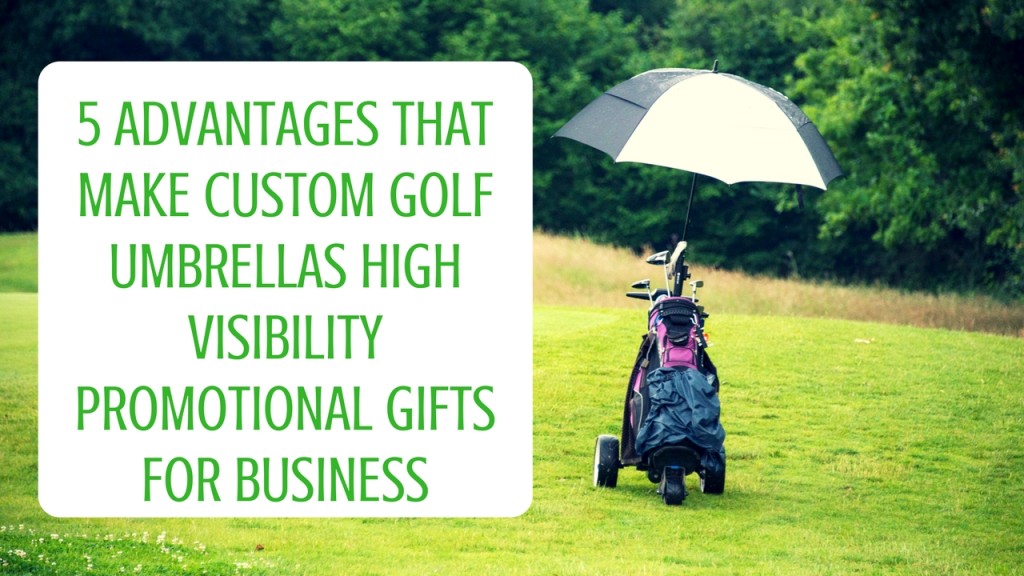 Here are some of the benefits of custom golf umbrellas, which make these top notch promotional items.
Massive imprint space
Not many custom gifts will have an imprint area as massive as these golf umbrellas. Make your brand, message or artwork stand out in full color imprints on these colorful golf umbrellas. The best part is that these logo umbrellas will make your message seen from a long distance, which makes it a perfect pick to get your message out in crowded areas like streets and market. The massive canopy can take in a number of people during rain, which makes it popular among every genre of customers.
Designed to last long
Golf umbrellas enjoy a durable design and will last a long time, which means that anything imprinted on these will remain in front of your target audience for a very long time. These umbrellas can withstand heavy rains or even windy storms, which makes these custom umbrellas a perfect option for promotions all round the year.
Versatile gift items for every brand
Logo imprinted golf umbrellas are well suited to promote all types of brands and can be effectively utilized by startups and established businesses alike. Easily portable, these head turning logo items will make veritable promotional items in the arsenal of marketers.
Great gifts to build impressions
The massive canopy and the attractive color choices will grab the attention of everyone towards custom golf umbrellas. Well suited for both indoor and outdoor promotions and business events like tradeshows, golf umbrellas will grab the attention of your audience in no time. Grabbing the attention of the audience is easier said than done during massive promotions like tradeshows where you may need something extraordinary like golf umbrellas to impress the crowd.
Ample Customization options
Thanks to the massive size and delightful color choices, custom golf umbrellas will give a free hand for marketers in personalizing these logo items. Be it artwork, mascot, fun quotes or more, these custom golf umbrellas can carry all types of promotional messages with ease.
Browse our custom golf umbrella collection to choose a model that matches your needs and do share your creative tips in employing these golf umbrellas.