March Is National Umbrella Month – Plan Your Promotions with Printed Umbrellas
Umbrellas have come a long way since it was invented as weather wear items over four thousand years ago. Today, umbrellas are popular as stylish accessories, photo props, promotional items, decorative items and more.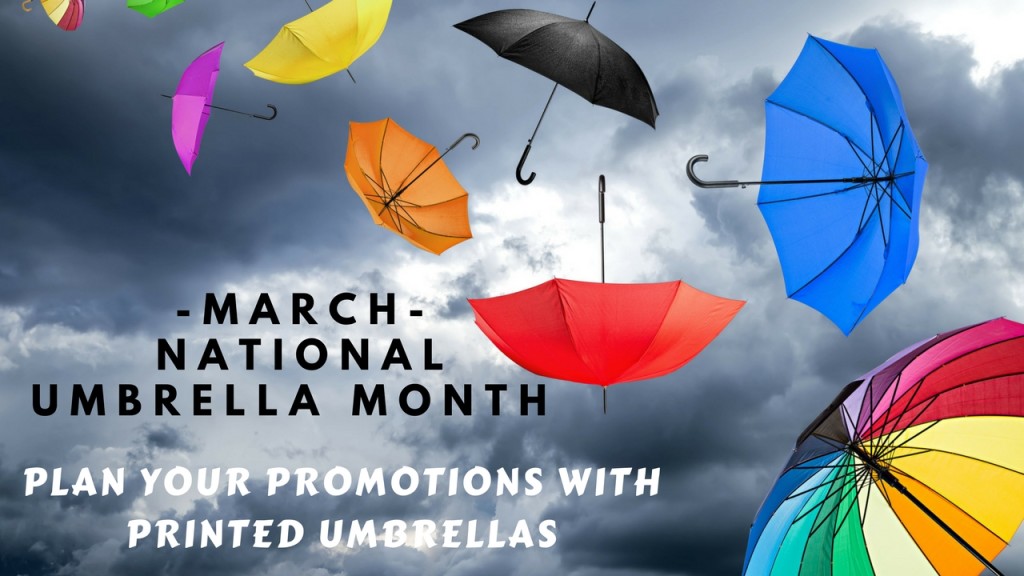 Since March is Umbrella Month, it will be a perfect occasion to think about some really interesting or even downright quirky ways in which you can make use of umbrellas to celebrate this month in style.
Distribute Umbrellas – Businesses looking for a budget friendly promotional item to get their message out will find these custom printed umbrellas a perfect choice. Available in a range of models, colors and prints, everyone will love to have a trendy and compact umbrella in their collection. The colorful and massive canopy will let you convey everything that you wanted to tell your recipients and guaranteed that you will get a lot of use all round the year. Custom umbrellas will make a perfect gift item for fund raising events, tradeshows handouts, raffle gifts and loyalty gifts among others. Nobody can resist these functional gift items as everyone will need an umbrella for their home, car and office.
Learn a New Dance – It will be a perfect time for you to fine hone your skills to dance in the rain like Fred Astaire! Not just on the silver screen, there are many traditional dances in China and Japan where umbrellas take up the center stage. Get inspired and learn a new dance and the fun of standing out in the rain without getting wet. You can choose transparent umbrellas that will let your recipients to soak up the fun and the beauty of the drizzle at its best without getting wet. It will be an interesting promotional idea for dance schools and artists. Try it out for sure.
Umbrella quiz: Organize a fun quiz on umbrellas and for marketers it will make a subtle way to promote their brands as the winners romp home with imprinted umbrellas as prizes. By organizing this quiz program, you can make your brand popular in your community as well. Don't you think it is the best way to celebrate umbrella month?
Umbrella Art – Another interesting way to celebrate umbrella month will be to organize an umbrella art competition. Be it painting, appliqué work or even cloth cut art, there is a lot you can do with umbrellas. Just bring in your creativity and the possibilities are endless. You can even put these artworks on auction to raise funds for local charity or nonprofit organizations. No matter how you wish to go about it, umbrellas will never fail to grab the attention of everyone around.
We bet, your heads will be buzzing with more ideas to celebrate umbrella month. Join the conversation and get the ball rolling!