A Quick Guide on Custom Golf Umbrellas as Marketing Handouts
Umbrellas as promotional handouts make a safe investment to impress the audience and put your message on a panoramic display all-round the year. The best part is that printed umbrellas will cost you only a fraction of most conventional advertisements like billboards or TV ads.
Umbrellas are retained for 14 months or more and create 1100 impressions plus during its shelf life, making it one of the longest retained promotional items. Umbrellas are something everyone needs in their life. So, your message imprinted on the massive canopy of umbrellas will never fail to get a receptive audience!
Why Golf umbrellas
Sturdy and stylish, golf umbrellas have fiberglass ribs and frames to make it strong without adding to the weight. Custom golf umbrellas make perfect business gifts for any industry considering its incredible popularity among the masses. Available in a  wide range of colors and patterns including full color digital imprint options, golf umbrellas will put your logo on a wide display on the greens and beyond.
Premium quality golf umbrellas may cost more. However, the high retention and consistent brand impressions that these logo items will make during its high shelf life will make it a great investment. So, if you are looking for a  value added gifts that will never stop giving back, custom golf umbrellas will make a great choice.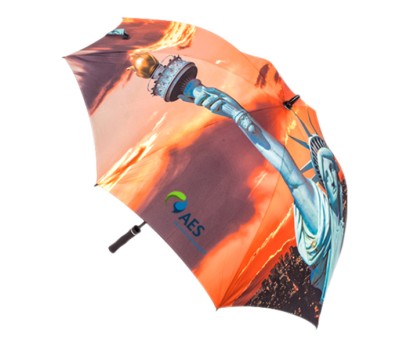 Choose an appropriate model
Get started by choosing the right type of  golf umbrella that will meet the needs of your audience. Available in a wide range of colors and models, umbrellas make high visibility billboards that will put your logo on a wide display. The massive canopy will make your brand visible from all angles draw easy attention of anyone who sees it!
Always on trend, imprinted umbrellas will continue to work for your brand – rain or shine! When bad weather can throw spikes on the wheels of conventional outdoor promotions, imprinted umbrellas get the maximum  visibility during bad weather!
Why choose a golf umbrella?
Golf umbrellas make elegant giveaways for businesses to spread the word and get their message across far and wide. Your logo, contact details and call to action message will get a grand display wherever your recipients go, which in turn will make your brand popular among a wider audience.  When anyone opens an umbrella, your message imprinted on the massive canopies will grab the attention of everyone around.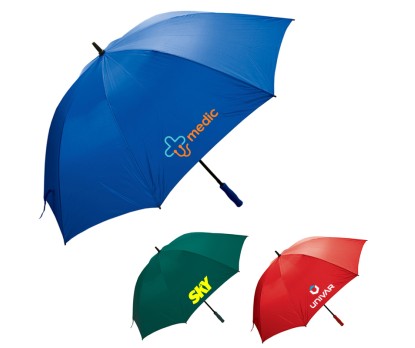 Golf umbrellas have a large size, which can protect 2-3 people together in rain or sun, which makes it a top choice for families, friends and peer groups. Designed to last long and withstand the inclement weather conditions of the greens, these umbrellas offer more value for your promotional dollars. The best part is that you can buy in bulk to get the best discounts and stretch your promotional dollars further.
 Have a better idea to use custom golf umbrellas as promotional swag? Share your thoughts with us on our facebook page.