Custom Inverted Umbrellas– Facts That You Probably Never Knew
Wet umbrellas splashing water on the car and living spaces are part of rain day woes of everyone. However, inverted umbrellas will give you ample reasons for you to cheer! Reverse umbrellas are what they sound like- these are designed to close inside out thereby trapping the rainwater within its folds. These umbrellas keep the wet surface away from you and prevent clothes and shoes from getting wet by the dripping water from the umbrellas.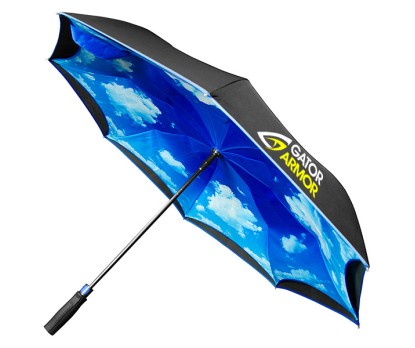 Why use a reverse umbrella?
The inverted umbrella has a frame that folds inward and hence most of the raindrops will run toward the center instead of falling off your arms. This umbrella is easy to open and close in small spaces such as store entrances or in public places. The best part is that these umbrellas are designed to stand on it own so that you don't have to worry about your brollies rolling over the floors and breaking the frames!
Reverse umbrellas are excellent handouts for customers, executives and employees. Functional and fashionable, these umbrellas may look like standard umbrellas but hold extra ordinary traits that make it a top favorite of the outdoorsy crowd.
Easy to customize
Choose from a wide range of inverted umbrellas in various colors, waiting for your company logo or image to be imprinted. Match it with your corporate colors to make it  a one of its kind giveaway  for your clients.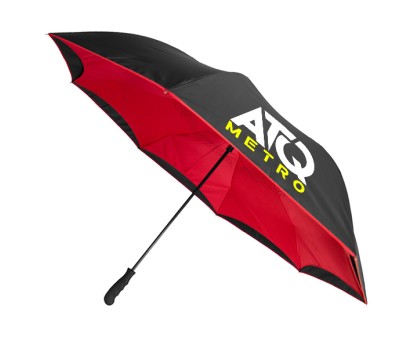 Space savers
Inverted umbrellas take less space while opening and closing, making it a great choice for motorists.
Umbrellas hold Rain Water and wont spill it
The  reverse opening and closing mechanism ensures that the rain water is held within the umbrella instead of spilling it over to the cars or floors. The rainwater remains within the umbrella till  the users open it to leave it to dry.
Limitless choices
Inverted umbrellas are available in a wide range of models including automatic umbrella that can be opened or closed with the press of a button. Inverted umbrellas with C shaped handle will allows the users to hold the umbrellas firmly while making the hands free for the use of cell phones or holding bags.
Sturdy and wind resistant, inverted umbrellas make a reliable choice even in the most hostile weather conditions. So, if you are looking for an umbrella that won't give away in high winds, look no further than these umbrellas. Stylish and worth showing off inverted umbrellas make a delightful addition to any home or office.
If you have been looking for an umbrella that is much more than just a weather wear item, you just have a found a perfect choice in reverse umbrellas!