Custom Golf Umbrellas- Gifts that Customers will find useful
Golf umbrellas make a great marketing swag to improve your business. Unlike conventional marketing ideas that are exorbitantly priced promotional golf umbrellas can advertise more for less. The best part is that these are not intrusive marketing items that may turn off your audience. Umbrellas will cost you only a few dollars and still ensure the same results as traditional advertisements that may set you back by a pretty penny.
Printed golf umbrellas are offered in different styles, designs, and colors. The added advantage is that you can customize these logo items exactly the way you want them to be. The massive canopy of golf umbrellas will have ample space for you to place your brand and message.
Whether you are trying to announce deals, promote your stores or even just trying to find a printed umbrella that you like, you have a whole lot of custom golf umbrellas at your fingertips, which make things much easier.
Make the most of your promotional dime by choosing the correct color, size and the most trending models in custom golf umbrellas. Popular promotional items like golf umbrellas increase response rates, boost brand recognition and create positive impressions for your brand.
Umbrellas are used all round the year
Golf umbrellas that can be used year round will provide your company long-term benefits based on continuous visibility and usage.  It will protect your customers from the sun and wind all the while promoting your brand awareness. Be it the sun or rain, golf umbrellas make a perfect corporate advertising because these have an impressive canopy space that can be printed on with your company logo or brand.
60 inch Arc Customized Golf Umbrellas : A well customized golf umbrellas will not only draw public attention in the packed golf arena, but also attracts lots of potential customers to your stores. Offered in 17 attractive colors, custom golf umbrellas made of nylon will make a great hand out to consider.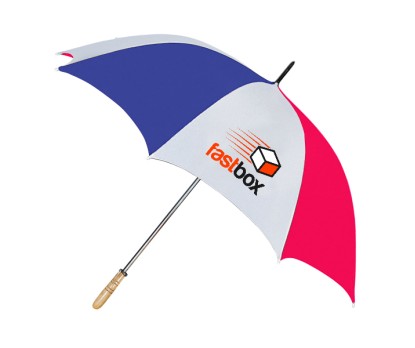 Vented Custom Promotional Umbrellas w/ 8 Colors: Designed for the greens, these attractive golf umbrellas have vented windproof canopy, fiberglass frame with blonde wood grip handle, and metal shaft. Light weight and lightening resistant, these golf umbrellas are great for the greens.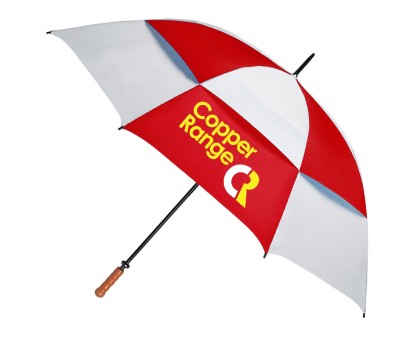 Custom Printed Slazenger Cube Golf Umbrellas If you are looking for a golf umbrella that is a wee bit different than the ordinary, check out these vented square pongee canopy golf umbrellas with Slazenger™ branding and hexagonal print pattern. The fiberglass lightning resistant construction and carrying case with shoulder strap will enhance the features of these golf umbrellas.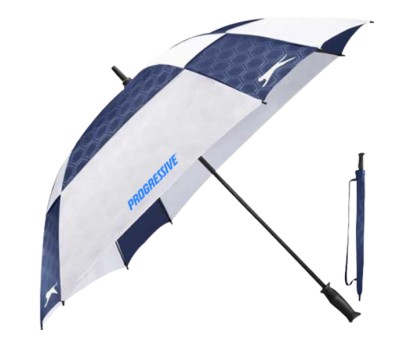 It is not accidental that the putting greens double up as your business board rooms these days thanks to the high value deals that are sealed in the greens. Make sure your brand is well displayed all over the greens and beyond in a subtle way with these custom golf umbrellas. Have you used golf umbrellas as your promotional items? Share your thoughts with us at the comments section below.