Promote Your Brand The Whole Year With Imprinted Umbrellas
Custom umbrellas are a great way to promote your business and the best part is that by handing these out just for once, you will get an year long brand promotion. Custom umbrellas offer maximum brand exposure and also return on investment thanks to its high usability.
Everyone needs umbrellas to stay safe from inclement weather elements and even to accessorize their outdoor apparels and more.  Custom umbrellas get used year round by just about everyone thereby putting your brand in the eye span of people for a long time. Umbrellas are used in countless occasions. Golfers use umbrellas on the fairway, beach revelers use beach umbrellas on the boardwalks and cafes or restaurateurs use it along their patio during fair weather- the list is literally endless.
Promotional umbrellas are available in several popular models like auto open, manual folding, antiwind umbrellas, and a lot more. Choose from sizes ranging from mini umbrellas that folds down to as small as 7-9" for easy storage to massive models in golf umbrellas or patio umbrellas that can cover several people at the same time!
Safety umbrellas are great for safety awareness campaigns or fund raising events. The reflective strip will enhance the visibility of the users at night and low visibility conditions thereby enhancing their safety.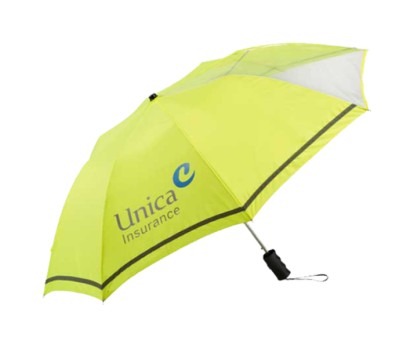 Wind proof umbrellas are handy models for areas that are prone to storms and even in daily life. Designed to withstand the high wind conditions, these umbrellas will keep your customers safe even in the most challenging weather conditions.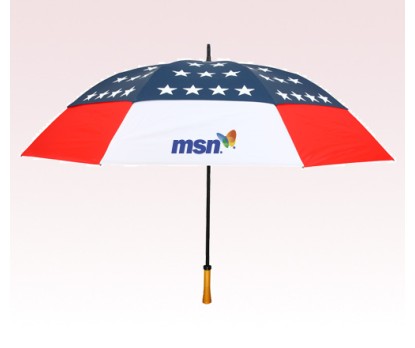 Wedding umbrellas have always been part of the special occasion not just as table centerpieces, props or decorative items but custom party favors for the wedding guests. Offered in a range of delightful options like transparent canopy models and ruffles umbrellas, these logo items will enhance the beauty of the wedding snaps for sure. Customize these with your initials, wedding day message or artwork to make an emotional connection with your guests. It will indeed make a well appreciated custom gift.
One of the latest innovative models to hit the market is the inverted rebel umbrellas– it will keep the rain water inside buy opening and closing in reverse thereby allowing the users to enter and exit the cars or hallway without getting wet.
Custom umbrellas thus make not just a useful and reusable daily use item but ensure countless brand impressions for your business. An attractively customized umbrella will never fail to impress people and anyone who sees them being used around town will surely be inspired!
We have a complete line of different types of umbrellas for customization. What you choose should depend on your company, promotional objectives and target audience. But this will make a perfect place to start!  Happy shopping!