Custom Umbrellas- Why Choosing The Right Style Can Be Crucial For Your Marketing?
A personalized umbrella will make a great handout to promote your brand, get your message out and to grow your goodwill. However, spare a thought to choose a perfect model that suits your business to ensure the best outcome. Custom umbrellas provide a lot of exposure for your brand and assured return on investment.
Once you hand out these highly practical custom gifts, they will never cease to work for your brand. Be it as promotional gifts, customer appreciation gifts or fund raising items, custom umbrellas never fail to impress. Promotional umbrellas are offered in countless models, colors and shapes. So, what is the best way to pick up the best model that will please your audience?
Here are some basic tips that will help you make your selection.
Mini Umbrellas – The name tells it all! These are easily appreciated for its ability to fit within bag, pockets, car decks and backpacks. Mini umbrellas having an arc size that range from about 36" to 46", fold to a length that fits into most purses and briefcases, which makes it a perfect choice for travelling executives and people on the move.
Auto-Open Umbrellas – These umbrellas that open at the touch of a button makes a convenient option while travelling. Customize these auto open with your brand and message to make it a high visibility portable billboard for your brand.
Vented Umbrellas – An umbrella that turns inside out can be a nightmare. These anti wind  umbrellas will remain stable and withstand heavy wind and rain even in the most hostile weather conditions. It makes a great value for your money gift item.
Folding Umbrellas – Popular all round the year, these folding umbrellas that fold down to a manageable size have always been a marketer's delight. Easy to customize and distribute, these logo items will never fail to engage your audience with your brand.
Clear Umbrellas: The transparent canopy will impart a fairy tale charm to these umbrellas. Your recipients can see the happenings around without having to look out from under the umbrella. Put your brand, mascot or tagline on transparent umbrellas to make them a high profile marketing tool.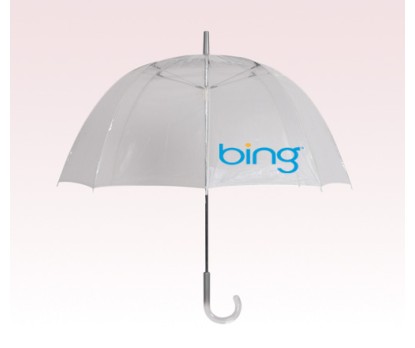 Golf Umbrellas – Big, bold and beautiful, these golf umbrellas cover more than two heads, golf bags and caddies. Strong and wind proof, these logo items will offer an impressive marketing advantage for your brand. Choose from arrange of shapes, colors and models and ensure a great display for your logo.
Safety Umbrellas – Safety umbrellas that feature reflective strips enhances visibility of the users at night and during stormy and bad weather days. These are great for maintenance workers, offsite employees,  children and commuters and your brand on these will get a lot of attention.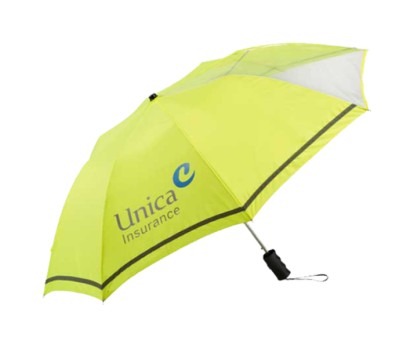 Consider your target audience and your marketing themes to choose appropriate model. Are you interested in custom printed umbrellas for your corporate promotion? Feel free to get in touch with us today to discuss your requirements.