Custom Umbrellas – Corporate Gifts With A High Popularity Index!
The best promotional items are those that enjoy a mass appeal. While under $ 1 dollar gifts may help to get your name out to some extent, they often get discarded faster than you would expect, which means that they won't give you the long-term exposure you want. This is what makes custom umbrellas a class apart. When you hand out a custom umbrella your recipients are going to use it for a very long time that too many times every day. So, you can imagine the exposure your brand imprinted on these daily use items will get. Offered in a range of interesting colors, patterns and price rates, custom umbrellas are ideal for all types of brand building initiatives including grand opening, tradeshows and store promotions. The best part is that placing bulk orders on custom umbrellas will ensure the best deals.
When you place your brand on promotional umbrellas, you leave a lasting impression on not just the recipients but anyone who sees it. High utility gifts like umbrellas build a formidable secondary audience for your brand that will go a long way in enhancing your brand goodwill.
Umbrellas are great corporate gifts that your employees will love to have. Every time they brace up against bad weather vows, they will be putting your brand and message on a wide display wherever they go. Be it a stroll down the street, business presentations, customer visits or tradeshows, your brand will be hoisted right over their head every time they use these imprinted umbrellas. Custom umbrellas are perfect for your top clients and business associates as well. Hand it out and let them advertise your business!
Here are some of the popular models that can be considered.
Tote umbrellas
Inspire the busy executives and the corporate clients to carry your custom umbrellas more often by offering them these sleek and stylish tote umbrellas. Light weight and easy to fit into bags or totes, these handy umbrellas bring together form and functionality alike. Customize these with your brand and message to make it a well retained gift that your audience will cherish for a long time.
 Fashion umbrellas
Why should umbrellas look plain and single tone when fashion trends are sweeping every realm of our lives? Check out these fashion umbrellas that are designed to make heads turn and impress even the most discerning customers in your list. Customize these with your message or brand to make it a high visibility billboard for your business.
Antiwind umbrellas
Get your message stay steady in front of your audience even in menacing wind with these custom antiwind umbrellas. Your recipients will have one more reason to remember your brand in the form of these fine quality umbrellas. Go for it!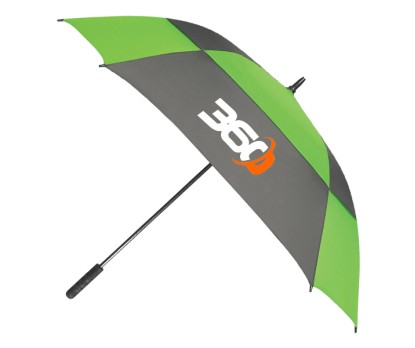 Need more? Browse our collection and choose a model that matches your promotional theme.