Custom Golf Umbrellas – Put Your Brand On A Proud Parade Without Being Intrusive!
Golf umbrellas are basically designed to protect golfers and their carts from the elements. However, the large canopy of these golf umbrellas will double up as a high visibility canvas for marketers to place their brand and message. Designed to carry easily and withstand strong winds these logo items will put your brand and message on a high visibility portability curve. The best part is that custom golf umbrellas will come handy not just in the greens but during beach trips, game days and even during a rainy day.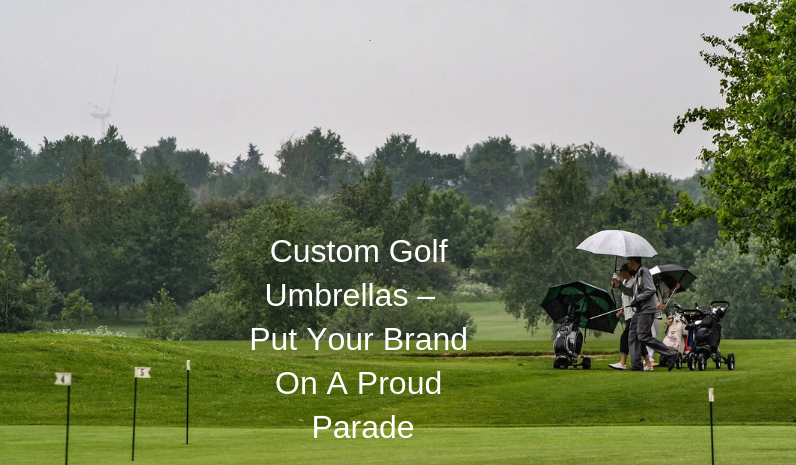 Burgundy & Gold 62 inch Arc Vented Golf Umbrellas
The contrasting color combination of burgundy and gold will grab easy attention of everyone around. It is made from strong nylon fabric while the vented design allows wind to pass through thereby preventing the chances of the umbrella turning inside out. The canopy design is complemented by the flexible nature of the umbrella's reinforced fiberglass ribs and shaft. Dimensions – 62″ arc – Closes to 39″. Imprint area – 10″W x 8″H.
62 inch Full-size Most Popular Golf Umbrella
The fiberglass construction will make these umbrellas light weight and durable, which makes it a perfect handout for golfing vacations. The  62" arc provides ample coverage for the golfer and the cart or for two people when used off the course. They are lightning and wind resistant, which makes it ideal for  rough weather conditions .One of the most  popular models in golf umbrellas, these logo items have a matching fabric case and a shoulder strap to ensure easy portability. The hardwood handles will make a great place for your brand and message as these can be laser engraved to get spotted in the crowd.
62 Inch Arc Custom Square Golf Umbrellas
Offered in a stunning monochrome pattern, these square golf umbrellas are guaranteed to stand out in a crowd of conventional circular umbrellas. The 62" arc can accommodate two people comfortably, and can withstand gusts up to 60mph speed without inverting. Rubber pistol grip handle and Fiberglass shaft and ribs will enhance its sturdiness. Your brand and message on these quirky golf umbrellas will never fail to grab the attention
62 Inch Arc Custom Imprinted Gustbuster Umbrellas
Custom imprinted 62 inch arc gustbuster umbrellas are perfect for touring golf professionals during golf events. The vented technology makes these golf umbrellas powerful enough to withstand wind gusts up to 60 mph without the risk of getting inverted. Custom imprinted 62 inch arc gustbuster umbrellas are becoming "preferred choice" for touring golf professionals during Nike, PGA, SPGA and LPGA events. Ideal for sports marketers and golf sponsors, these smart solid colored custom umbrellas will stand out in the greens easily.
Golf umbrellas are well suited for all types of outdoor events and activities. Customize these with your brand and message to grab a few eyeballs.