Enhance The Fun Of Your Outdoor Branding With Custom Beach Umbrellas
Planning an outdoor promotion is the best way to get the message across for marketers. Fair weather will bring scores of fun seeking people outdoors, which sets the tune for a highly effective and interactive brand building session for the marketers. Everyone will be excited at the mere thought of  beach fun- the waves , the sand castles and the ice cream! So, you can very well imagine the brand exposure that beach umbrellas will offer on the crowded beaches.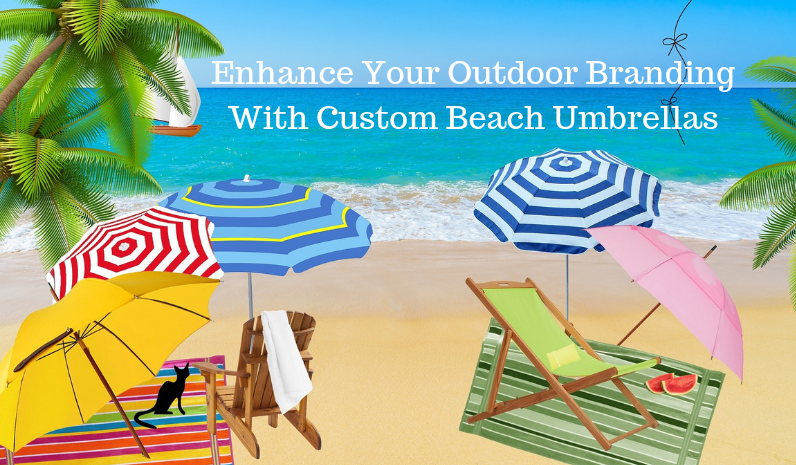 Custom umbrellas make great corporate gifts as well because your team will be excited to get these trendy umbrellas for their golf holidays or beach fun. Every time they carry and use these umbrellas, your brand will reach a wider secondary audience. Your team members will feel brand proud everytime their acquaintances ask more about the organization where they are employed.
Offered in a range of brilliant hues and shades, custom beach umbrellas will offer a massive imprint area for the brand, mascot and message of the marketers. A brilliantly colored umbrella will grab easy attention of everyone around. Not just along the beach but during picnics, game days, golf weekends and more. Umbrellas can be used effectively to promote all types of brands and businesses right from fashion brands to investment services, restaurants and more.
Beach umbrellas will keep the recipients safe from sun and shower all the while showcasing your business message to the wide world outside. Your brand on these massive umbrellas will become a symbol of safety and protection for the users. The best part is that beach umbrellas are well worth the investment as they are durable and long lasting, which makes them handy year after year.
Here are a few interesting ways to use beach umbrellas in your promotions
Beach umbrellas pique interest of the onlookers and can be used as an attractive billboard to grab the attention of the busy shoppers.
These logo items can be used to set up outdoor dining areas for cafes and restaurants during spring and summer season to utilize the free space and  add a dramatic appeal to their business.
Umbrellas can be printed with your tagline, message or artwork on a few panels or all of them to create the right impressions and to make heads turn. If you wish to adopt an understated theme, you can imprint your brand on the innerside and still gain ample attention of people who come underneath the canopies.
Beach umbrellas can be used as portable billboards to announce special sales or announce grand openings or milestone events because these are easy to carry, install and uninstall wherever you want. This is the best way to get your message farther and wider!
How do you rate the promotional capacity of custom beach umbrellas? Join an interesting discussion with us at our facebook page.