High-Performing Golf Umbrellas Where Style Meets Substance
Golf is an outdoor game that carries the risk of exposure to outdoor elements. While being outside for many hours, every golfer should be prepared for the unpredictable change in weather by having a reliable golf umbrella on hand.
Do you like to play in a light drizzle or use your golf umbrellas not just on the greens but the city streets as well? These factors will help you get started. Here are some tips to choose custom golf umbrellas.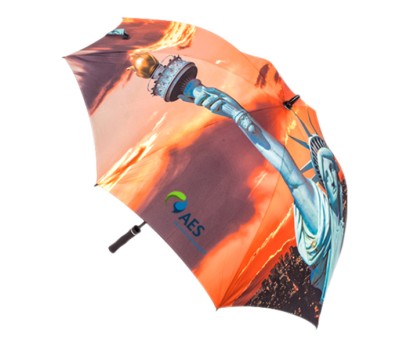 Rain protection
Ideally, golf umbrellas should be suitable for both sun and rain. Choose models with water resistant canopy to make sure that it doesn't leak.
Wind resistance
Golf umbrellas should have antiwind features and should not be blown inside out by the wind. Choose sturdy models with fiber glass ribs and frames that will stand up against stiff and strong wind that blow across the greens.
Size
Golf umbrellas are available in a wide range of sizes. However, make sure that the golf umbrella is compact enough for it to fit the golf bag and even use it to work on the New York City if you wish to! Very big umbrellas may be suitable only for the golf greens or family picnics and not for everyday use.
 Durability
Your umbrella should be a long-term investment and hence should be durable and long lasting. Make sure that the golf umbrella you choose have high-quality shafts that will hold up even under duress.
Four Seasons Totes Stormbeater Golf Stick Umbrellas: Windproof vented double canopy umbrellas with fiberglass shaft and rib construction ensure  superior durability for these golf umbrellas.  Comfort grip black rubber handle, push button automatic open function will enhance the ease of use of these umbrellas. The Double Canopy design  helps heat escape without letting sun or rain in, to keep the users dry and cool in the sun and well protected in the rain.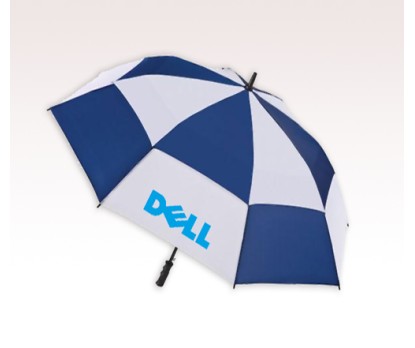 Vented Custom Promotional Umbrellas w/ 8 Colors: Expecting a blustery day on the course?  Choose these vented umbrellas that are designed to allow air to pass through without the umbrella getting blown over.  These 68" vented umbrellas are available in 10 bold colors. Fiberglass frame with blonde wood grip handle, and metal shaft are the other features of these light weight umbrellas that are less conductive to lightning, and can withstand wind gusts upto 55 MPH.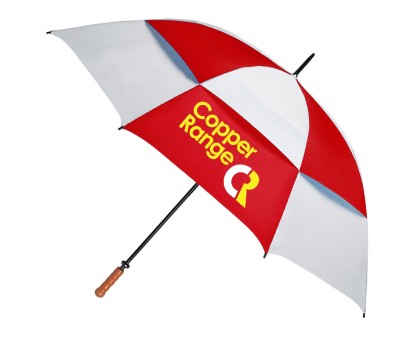 Golf umbrellas not just keep the players safe from sun and rain but also protect the clubs, much to the relief of the golfers. These are perfect for corporate golf holidays, golf themed promotions and fund raising as well. Are you planning to use custom golf umbrellas as your promotional items? Share your thoughts with us on our facebook page