Promotional Golf Umbrellas – Make Brand Impressions All Round The Year
Custom golf umbrellas make a spacious canvas for your message, holiday deals and logo that will never fail to grab the attention of people even in the busy holiday season. Designed to withstand drizzle, wind and snow in the greens, golf umbrellas will put your brand on a wide display even in less than ideal situations. Offered in a range of brilliant colors and models, golf umbrellas come with vented panels and fiber glass construction, which makes them sturdy and lightning resistant. The best part is that the reinforced construction will retain the shape of the umbrella even in gusty weather.
The fiberglass construction makes the umbrella both lightweight and durable, which makes these logo items a great choice for promoting golfing vacations, golf greens and clubs. The massive canopy will provide ample coverage for the player and the golf cart, or for two people when used off the course. Golf umbrellas are offered in a range of brilliant colors that make the users visible on a golf course even on a cloudy day and prevent the possibilities of injury.
Even if your audience may not spend much time on the links, golf umbrellas still make a great gift choice to get your message across during outdoor sporting events or escorting patrons to their vehicles during bad weather. Anything imprinted on these will be seen from a long distance, which means that your message will always have a keen audience around.
Golf umbrellas make an important gear in a golfer's bag that keep the weather blues at bay. However, these logo items have become high visibility promotional items for marketers these days considering the undivided attention that these massive brollies take credit of!  The best part is that custom golf umbrellas can be used to promote all types of brands and businesses as they never look out of place as it matches with every event theme and product range.
Are you planning to use custom golf umbrellas as your holiday gift items? Here are some trending models that will put wind into the sails of your promotions this season.
NeverWet Auto Open Folding Golf Umbrellas: The name tells it all! Anyone with these auto open golf umbrellas will never be caught in the rains. The lightweight design coupled with NeverWetTM technology which repels water will make these printed golf umbrellas a great addition to your marketing mix. The mesh carrying case and shoulder strap will ensure easy portability for your brand as well.
Squall Golf Umbrellas An all fiberglass frame and fiberglass ribs will make these golf umbrellas a sturdy and reliable choice for the greens all round the year. Customize these with your brand and message and get spotted!
Auto Open Folding Windproof Golf Umbrellas: These stylish, double layered golf umbrellas will make heads turn towards your brand not just in the greens but beyond as well.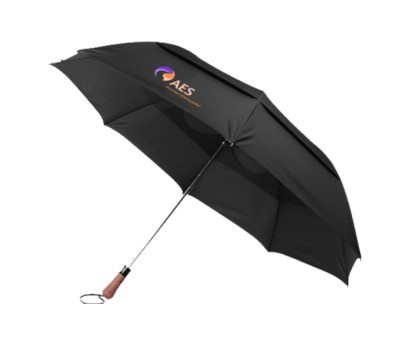 We have an exclusive section of golf umbrellas that feature models in all possible price rates. Shop at your pace and make your holiday gifts a reason to cheer for your customers!