A Few Popular Umbrellas For Your Holiday Season Marketing Mix
Umbrellas have come a long way since the times of the basic black umbrellas with wooden handles, though we are yet to invent umbrellas that fly us around in Mary Poppins-style! Even a decade back, the United States Patent and Trademark Office had "more than three thousand active patents on umbrella-related inventions," which simply sums up the immense potential that these logo items hold. So, here are a few tips that will help you choose umbrellas that ensure the best value for your money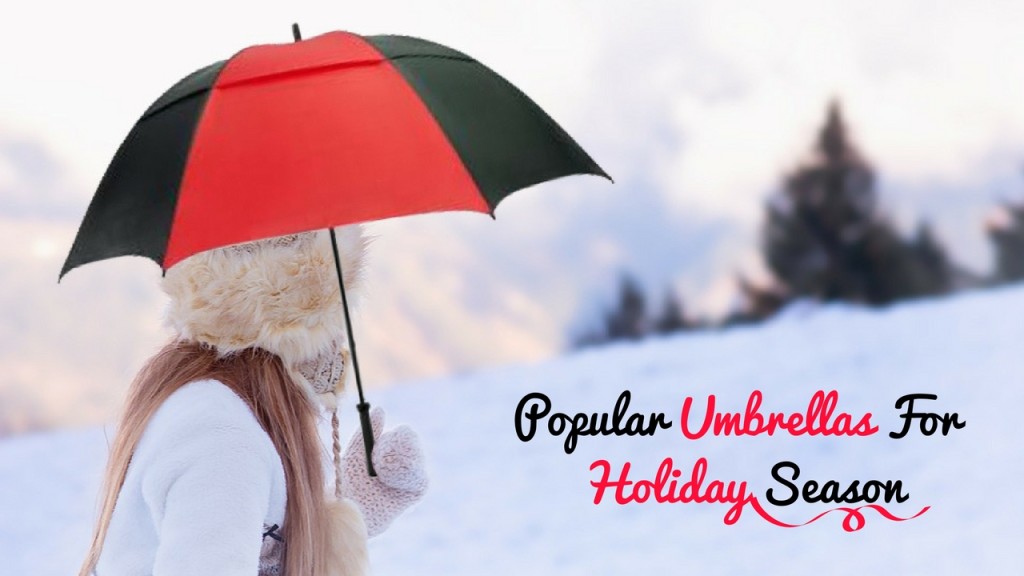 Anti wind: Custom Umbrellas are expected to work perfectly every time because if they fail to open even once, your day will be ruined. Thanks to the antiwind technology, umbrellas can spring back to its original shape inverting, thereby saving the day and the embarrassment for the customers.
Fashion trends: Fashion can very well go with function. From attractive solid colors to printed designs and more, there is something special for everyone in custom umbrellas these days. Users look for more functional features and eye popping designs.
Durability: Choose the best quality custom umbrellas that will last for many years to ensure the best possible brand experience. The high retention will enhance your brand visibility over a period of time.
Panel imprint options: The panels of umbrellas make premium real estate for you to place your promotional message. Imprint your message, artwork, funny quotes or in fact anything that you wish to convey with your audience. You can place your imprint on all the panels or on alternate panels.
Transparent models: Transparent umbrellas that let the users see the outside world while staying shielded from the pounding rain is a popular choice.
Handles can be customized too: While thinking about umbrellas the first thing that comes to our mind is the wide canopies. However, handles can also be effectively customized with your message. Your brand will remain at the tip of their fingers and your brand exposure will go up manifold.
Now that you have a fair idea on the features to be considered while buying a good promotional umbrella, here are a few popular models that you can consider.
41 inch Arc Custom Logo Umbrellas w/ 10 Colors: Well reviewed and star rated, these logo umbrellas in 11 colors have always been popular choices. Some of the features of these umbrellas include 3-section folding metal shaft, ergonomic matte black plastic handle with wrist strap and a design that folds to 9'' length.
Model No: US3521
Available Colors : Black, Burgundy, Green, Navy, Orange, Pink, Purple, Red, Royal and Yellow
Imprint Area : 5″ H x 5″ W
Product Size : 17″ x 10″ x 10″
43 Inch Arc Customized Manual Folding Umbrellas w/ 16 Colors These affordable and durable umbrellas are available in both alternating color with white panel and solid colors. Personalize these with your brand message and artwork to impress your recipients readily.
Model: US3844
Available Colors : Black, Black and White, Burgundy, Burgundy and White, Forest Green, Kelly and White, Navy and White, Navy Blue, Orange, Red, Red and White, Royal and White, Royal Blue, Tan, White, Yellow,
Product Size : 43″ arc
Imprint Area : 7″W x 4″H
Product Weight : 32 lbs
42 inch Arc Custom Logo Umbrellas w/ 18 Colors: One of the best sellers and star rated umbrellas, these 42'' arc custom logo umbrellas in 18 different colors are perfect for promoting all types of businesses ranging auto spare stores to fashion brands and hotels among many others.
Model: US2237
Available Colors : Red, Royal Blue, Maroon, Black, Forest Green, Tan, Navy, Lime Green, Orange, Black/White, Red/White, Royal Blue/White, Maroon/White, Royal Blue/Black, Red/Black, Tan/Navy, Tan/Black or Tan/Forest Green.
Imprint Area : 7″ W x 4″ H
Product Size : 16″ x 15″ x 12″
Product Weight : 29.00 lbs
Need more best selling custom umbrellas? Browse along and shop at your pace or should you need any tips or assistance, all you need to do is give us a call.