The top 4 Golf Umbrellas For Fall Season Promotional Events
Winter can't be far away; the air is crisp and the days are getting shorter. November is a beautiful time to plan a golf escape to have a sheer indulgence of the last few golf days before the frosty winter and the busy holiday season sets in. Most of the golf courses will be free of the peak summer season crowd, leaving the serious golfers a perfect opportunity to fine hone their clubbing skills. A good game of golf always attracts a sizeable crowd any time. For marketers who are planning to reach out to the exclusive league of the well heeled golfing community would find this season a perfect time. Thinking of promotional gifts, can there be a better gift than golf umbrellas for the tee loving community? Imprint your brand and message on the wide canopy of these umbrellas that are available in a palette of colors and see how easily your brand will get spotted by everyone in the greens. Not just for the greens, custom golf  umbrellas are perfect for the car, caddy or home; so imagine the exposure that your brand is likely to get in the days ahead!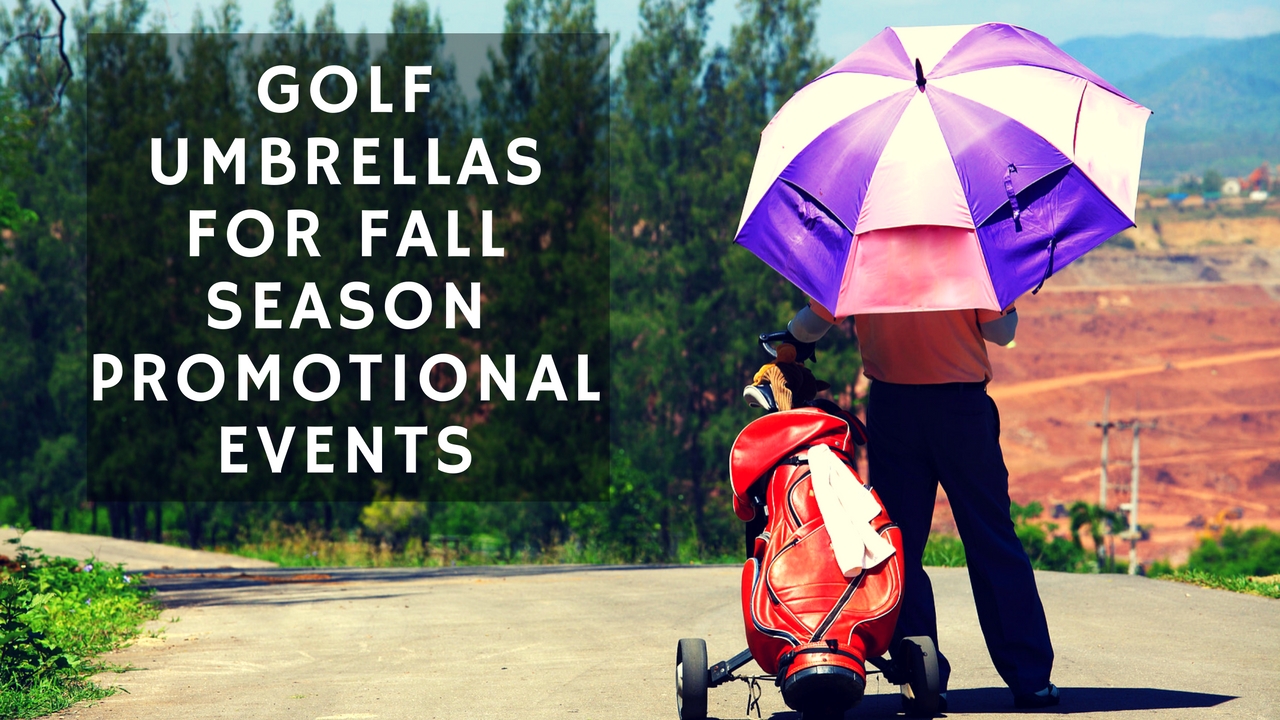 Here are some of the models that you would find interesting
48 Inch Arc Custom Steel Fashion Umbrella w/ 7 Colors: Available in 8 different attractive colors, these personalized 48″ steel fashion umbrella is a best choice for marketers who wish to be seen and remembered in a good way. Personalize it with your logo and message to make it stand out against all odds. This umbrella is extremely durable, efficient, and offers best visibility to your business messages. Each umbrella possesses an impressive 48″ arc empowered with metal shaft and metal frame, thereby making it sturdy and confident against the unpredictable golf green weather.
54 Inch Arc Custom Golf Umbrellas w/ 6 Colors A great game of golf would never be washed out due to a sudden downpour with these golf umbrellas. The prominent imprint area of these brollies would make a high value real estate to place your brand information to promote banks, insurance companies, golf leagues and more.
56 inch Arc Telescopic Custom Logo Umbrellas w/ 3 Colors A classic favorite among marketers, these golf umbrellas offer easy visibility at cheaper price. This is one of the largest folding umbrellas in our collection. Fiberglass and metal frame with metal ultra sturdy hexagonal shaft and long tapered wood handle with built-in push button makes it different.
58 Inch Arc Promotional Ultra Value Golf Umbrellas These promotional golf umbrellas are well sought for its 58 inch arc, heavy –duty construction, fiberglass ribs, extra strong 14mm powder coated black metal shaft, shorter and safer ferrule. These colorful golf umbrellas are ideal for golf fundraisers or you can sponsor them for your favorite golf team.
No matter whether you love the game of golf, it is impossible for you not to fall in love with these custom umbrellas that are a notch better than the best!