Custom Patio Umbrellas- Long Term Brand Promotion At One Time Investment
Commonly used at home or restaurant, patio umbrellas are durable, massive and fairly permanent. The heavy weight of these umbrellas might make it difficult to move these umbrellas often. However, the benefit is that these are designed to stand up to high winds and rough weather and can last for years on end. Some patio umbrellas may have a large cement weighted base to keep it in place during high winds.
Restaurants and bars can use these  large patio umbrellas imprinted with their menu or alcohol brands to draw easy attention. In some cases businesses like beer companies or banks will hand out these umbrellas imprinted with their logo or promo message to bar or restaurants for free. While the bar or restaurant acquires a free umbrella, the company will get a strategic place to promote their brand. win-win!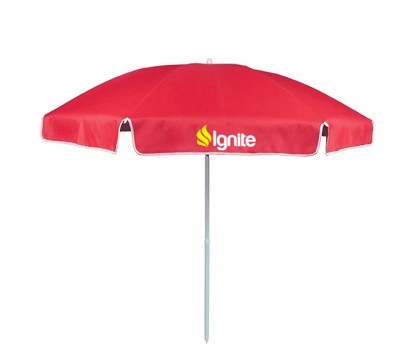 How A Patio Umbrella Can Benefit You
Offer an outdoor shaded space : The patio umbrellas will make an extra space for your clients outdoors during fair weather season. You can set up an alfresco dining experience with minimum investment and turn your patio into a  buzzing crowd puller.  While your clients enjoy the much-needed shade, your brand will get a dramatic display on custom patio umbrellas. As it can block harmful UV rays, it will be incredibly beneficial for those who are sensitive to the sun.
Enhance the appearance of your patio set: Patio umbrellas will make an important piece of accessory that compliments a patio set. You can choose umbrellas that match your outdoor furniture set  to create a magical effect.
Optimum utilization of space: Having an umbrella on your patio or in the summer is one thing, but you can use it all year round. It will make a great place to be in while it is snowing to sip a warm drink or photograph the winter spectacles. A large outdoor umbrella will allow you to use your outside space effectively and enhance your brand visibility during any season .
Patio umbrellas will also cater to your clients who may like to work outside. A shaded area that keeps the sensitive gadgets like laptop or tablet will surely count when they choose restaurants or bars.
Attention grabbing: When customers pass by your store or restaurant, they will be tempted by the sight of the cozy outdoor space available for eating or socializing. Custom patio umbrellas will help businesses to enhance their footfalls and increase patronage of their store at easy rates. Plus, colorful patio umbrellas will give a fairy tale charm to the outdoor space that is hard to beat! Your customers will be happy to share their snapshots in their social pages while your brand gets a high visibility both online and offline!
Feeling  overwhelmed by the plethora of patio umbrella options? Contact us to pick the right one that will suit your promotional scheme.