How Promotional Umbrellas Will benefit Your Business
Custom umbrellas offer everything you expect from a marketing product. From being a high utility giveaway that helps your recipients to stay safe from bad weather and putting your message on a wide display umbrellas will fit your promotional plan with ease.
Here are the key benefits of promotional umbrellas that have made these logo items the hot favorites of marketers.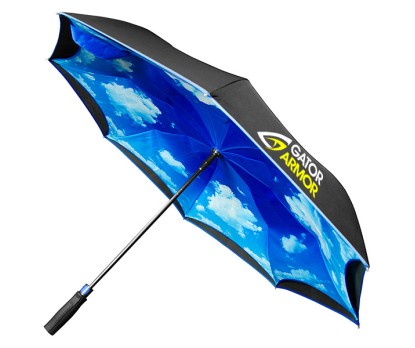 Large imprint areas
With print sizes of over 300mm there's no chance of missing your brand! on umbrellas You can get your logo and message imprinted on each panel or across the umbrella. You can also print the inner panels or the bottom of the handle of umbrellas!
Real value for money
Everyone needs umbrellas daily to stay safe from bad weather, which means that your brand imprinted on umbrellas will get a lot of visibility. Custom umbrella is a great investment as the ROI you get from an umbrella is definitely worth the purchase!
Durable
Imprinted umbrellas are long lasting custom gifts that are designed to last long and look great. There are even anti wind umbrellas that won't break in high winds and will let  your prospects use it over and over again.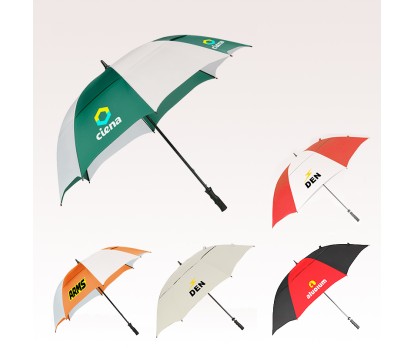 Huge exposure
Imprinted umbrellas enjoy great visibility even in crowded sporting events and corporate events because anything imprinted on logo umbrellas will never be missed.
Now that you know the plus points of using custom umbrellas as your swag, here are some popular models that will help you get started.
Mini umbrellas
Ideal for people on the street, mini umbrellas are available in various color choices and with automatic opening or even the classic wooden hook handle that covers every option that you want in an umbrella. Handy, easy to store and great for handbags, mini umbrellas will ensure the ultimate portability for your message as well. Let's be frank about it. There is a mini umbrella for everyone's concept. Grab the opportunity to get your company logo seen at a fantastic price!
Anti wind umbrellas
Reliable during the stormy weather, antiwind umbrellas ensure extra protection for your prospects. The sturdy yet flexible fiberglass ribs bring the umbrella back to standard position even when the gust turns the canopy inside out. So, your logo imprinted on these stead fast umbrellas will get an incredible visibility even in tough conditions where other umbrellas may fail.
Golf umbrellas
Golf umbrellas offer excellent, storm-proof reliability and lightning protection when the weather hostile in the greens Choose from a wide range of golf umbrellas imprinted with your logo and message in every price rate and get spotted all over the golf links and even beyond at nominal cost. These make great giveaways for your golfing clients, to promote golf resorts or golf clubs or even to promote your corporate golf event.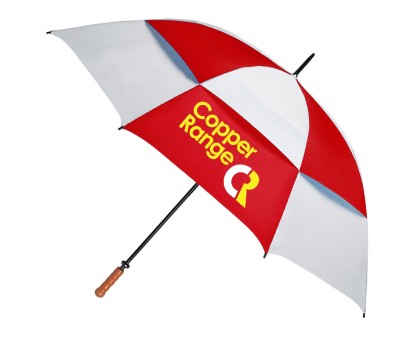 Did you find this post on custom umbrellas useful? Be the first to share and spread the word