Make Your Brand Stand Out with Umbrellas
Looking for a way to promote your brand ahead of your competitors? Custom umbrellas will make a smart way to highlight your logo and raise brand awareness.
Done right, printed umbrellas can easily gain attention from the audience. Advertising can be exciting for marketing managers with versatile handouts like custom umbrellas. Put your creative capabilities to a test by utilizing the massive imprint space to the best. With perfect customization ,  umbrellas can ensure the ultimate  creative outcome for your marketing message.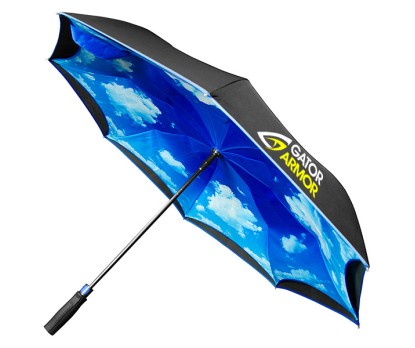 Take your outdoor branding to the next level with custom umbrellas. Versatile and ideal for every business niche, these  make great  handouts for all types of business events.
 Gain easy  attention
The massive canopy will make a great backdrop to position your logo  at any place to ensure high visibility.  Available in a wide range of models including colored and clear canopy models , printed umbrellas add an  aesthetic appeal that is hard to ignore! A well customized umbrella can easily make your message look glam and high-end.
Functional
Everyone needs umbrellas to stay safe from weather and boost their outdoor style.  In addition, these are available in a wide range of innovative models like inverted umbrellas and golf umbrellas among others. Designed to withstand extreme weather conditions, custom umbrellas will keep your outdoor promotions in full swing, even when other marketing strategies fail due to bad weather. This effective marketing tool will thus ensure optimal brand exposure.
Durability
When it comes to its shelf life, custom  umbrellas have the highest retention of over 14 month compared to other custom giveaways . Light weight yet wind resistant , umbrellas ensure more value for your promotional dollars while offering a long lasting handout for the audience. Designed to withstand elements, umbrellas are indeed well suited for everyday wear and tear.
Umbrellas may cost you a little more than some other giveaways; however, the high retention and elegance of these handouts will make it a premium gift choice. Ideal for high end clients and blue chip promotional events, branded umbrellas will hoist your brand aloft literally. The incredible customization options would mean that your brand has a higher advantage over competitors.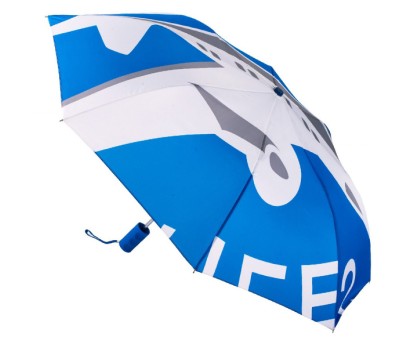 Limitless options
Umbrellas serve as a durable reminder of your company, because they can be custom-designed to match your brand. These are also ideal as displays for bars and restaurants.   The best part is that you have the ultimate creative freedom to make these custom umbrellas as special as you wish. Apart from the logo and message, you can include artwork, fun quotes or something more that will enhance the character of these giveaways.
How do you plan to use custom umbrellas as your promotional tools? Share your ideas with us on our facebook page.