Benefits Of Using Umbrellas In Marketing
Custom umbrellas are versatile handouts to promote  every genre of businesses.
Whether you want to promote your bar, landscaping services or something more, a well designed umbrella will keep your customer's attention focused on your products . Print Custom umbrellas with anything like special promotions, contact detail and artwork to ensure an effective brand positioning.
 Factors to Consider when Designing Custom Umbrellas
Umbrellas make an important advertising tool in the success of a restaurant or bar because these massive umbrellas will be the first thing customers will look at. These high quality displays will thus leave a good impression on your customers. So, if you've got a new store promotion or customer incentive to offer, make sure to highlight it on custom umbrellas to  make heads turn. Better the design, the easier will be for consumers to spot your products. For instance, patio umbrellas make a great choice for restaurant marketing.  Because the moment customers  enters, the product advertising starts, which in turn will catch their attention.
Overall Design
Solid colored umbrellas are ideal as these stand out even in crowded venues and grab easy attention of everyone around. Choose high-definition graphics and lively colors to make it more eye-catching. It will make sure that your prospects will check out your offer, which in turn will lead to sales.
Value added
Not all brands are capable of bringing in the big guns for advertising. Though umbrellas belong to the high price bracket, marketers can stretch their promotional dollars by ordering in bulk as it will fetch them the biggest discounts.  In addition, umbrellas are handouts with a high perceived value that will perfect fit the premium group of clients.
The long retention and high practical value will make umbrellas everyday accessories. Thus your brand will make consistent impressions for a long time , which will even off the initial  investment.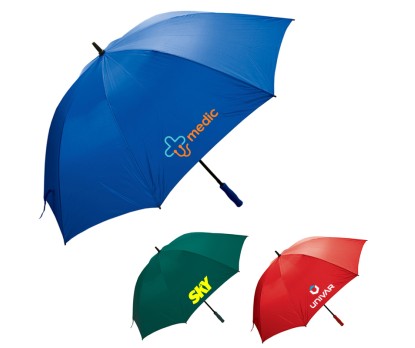 Classic Gift choice
Though there are many high-tech advertising tools nowadays, custom umbrellas still continue to be popular in promotional giveaways.  A well customized umbrella is effective in promoting your brand and conveying information.  Just be sure to be creative in your designs and marketing approach. Everyone needs umbrellas to boost their outdoor fashion and stay safe from elements. Thus classic giveaways like umbrellas will never go out of fashion in the marketing world. 
So, if you would like to create your own custom umbrellas to grow your business, explore our collection to get started.