Umbrellas Are The Latest In Fashion Accessories in Town!
If the trends are any indication, umbrellas have become the latest "must have" fashion accessory these days. From being a nondescript and plain functional item, umbrella has evolved to be a fashion accessory that talks a lot about the fashion sense and hobbies of the user. From golf umbrellas to wedding umbrellas or inverted umbrellas, there are a lot of models to choose from.
Originally designed  as a shade from the sun, these days it is used against rain and  frost as well. Umbrellas indeed have come a pretty long way. Here are some interesting umbrella models that are a wee bit different than plain umbrellas
Customized Renegade Auto Open/Close Inverted Umbrellas Every time you fold these umbrellas when wet, the water is held within the folds thereby preventing spillage on floors or car interiors. Made of pongee material and offered in a range of solid colors, these umbrellas are all set to be the seasonal favorites among your clients and employees.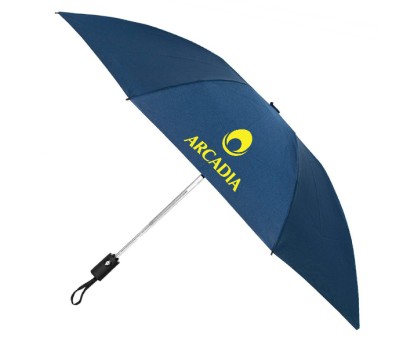 62 Arc Vented Square Golf Umbrella:  The distinctive shape of these umbrellas will set it apart from the ubiquitous and frankly boring traditional umbrellas. These square shaped golf umbrellas stand out from the crowd and will highlight your brand and message in true style. These cool umbrellas are special inside out. These lightning resistant umbrellas can withstand strong winds as well thanks to its sturdy fiberglass ribs and ferrule. Packed in a matching fabric case with a shoulder strap, these are easy to carry across the greens as well. Big enough for 2 persons, these umbrellas  will get your brand noticed big time on the golf greens.
Shelter Pod Dome Shaped Vinyl Umbrellas: Put a smile on the face of anyone who sees these interesting  dome shaped umbrellas. The dome shaped cover keeps the users dry while the clear panels will give the luxury of seeing the rain or the sky all the while remaining safe from elements. Choose from various bright and light color accents to complete the look of these accessories.
Full Color Golf Umbrellas These  golf umbrellas will grab easy attention with its fully sublimated  design that will turn these umbrellas a riot of fun colors and creative expressions. Get your message, artwork or taglines imprinted in full color and make heads turn. The massive 62 Inch arc is the other main highlight of these umbrellas. Designed to look good and last long, these umbrellas have rubberized handle and fiberglass ribs and shaft.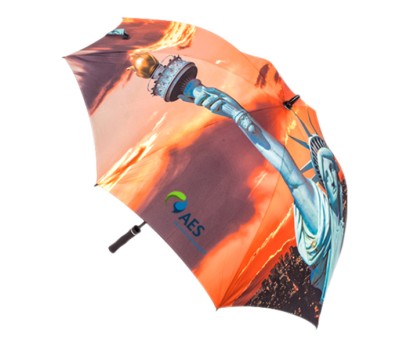 These are some of the custom umbrellas that combine fashion with the latest wind-resilience technology – Surely this has got to be the way forward. Check it out right away.