How To Use Custom Umbrellas In Promotional Events- 4 Winning Tips!
Umbrellas hold the rare distinction of bringing together form and functionality. Everyone needs umbrellas to stay safe from weather elements. Most people even use umbrellas as stylish accessories or props. So, if you have been looking for a custom gift that is budget-friendly, well retained and have great promotional potential, look no further than custom umbrellas. Offered in a palette of vivid colors, patterns and sizes, umbrellas can be matched with any promotional theme and budget as well.
Looking for some fresh ideas beyond store promotions to include custom umbrellas in your marketing plan?  Here are a few tips that will help you get started
Fundraising events
Non-profits, booster clubs and other organizations planning a fundraising event can make use of the incredible popularity of custom umbrellas. Everyone will be keen to support your cause by buying these high utility items, and you can raise awareness for the social cause you support by selling custom umbrellas at the event!
As Wedding Favors
Outdoor wedding season is on and destination weddings a rage! Umbrellas will make a classic wedding favor for your guests as these will keep them safe from weather elements and double up as props during the wedding photoshoot. Choose from a wide range of umbrella models like transparent umbrellas that will add a fairy tale charm to your wedding event. These umbrellas will let your guests take home the memories of the special day to be cherished for a long time to come.

Milestone handouts
Gone are the days when umbrellas used to be plain and boring. Now you can customize the canopy of the umbrellas with your brand, design and artwork to make it really special. Make use of the massive space on the canopy to make your message stand out. Your recipients will have a cool and stylish fashion umbrella for all their summer outdoor events, parades and fairs. Even if it rains, they will remain the center of attraction when they have these uniquely branded umbrellas.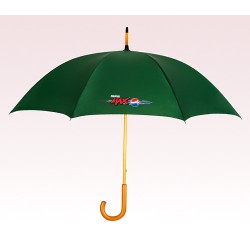 Team spirit items
Looking for a trendy team spirit item for your team? Golf umbrellas will make a great choice. If you haven't thought about it earlier, it is time to give it serious consideration. Pick up umbrellas in your team colors, get them imprinted with your mascot or tagline and your team is all set to make heads turn every time they go out in the sun to the practice grounds!

Have a better idea to use custom umbrellas? Share it with us on our facebook page to get featured!