Why Custom Umbrellas are one of the most popular Promotional Gifts!
Did you know that umbrellas are one of the most popular promotional gifts especially during the holiday season? Here are some interesting statistics which will highlight this point
ASI global ad impression study 2019 shows that 45% of consumers own promotional umbrellas. Interestingly custom umbrellas are more popular among boomers than millennials.
Umbrellas generate 1100 impressions over its shelf life, which makes them items with one of the lowest costs per impressions!
Promotional umbrellas are retained for an average of 14 months .
58% of recipients cite quality of the umbrellas as the most important reason they retain umbrellas.
59% of baby boomers retain custom umbrellas they receive for 2 plus years.
Now for some really sound reasons that make imprinted umbrellas one of the top listed items among promotional swag
More value for money: Umbrellas are high utility items with a fairly high retention, which makes them gifts with a very high-perceived value for your audience.
Big and consistent impression at one time investment: Umbrellas have a massive imprint space for you to place your message. You can even opt for multiple imprint locations at the handle, umbrella case or even the inner canopy as you wish! So, imagine the exposure your brand imprinted on these logo items will get – no matter whether these remain open or closed!
 High retention : At 14 months, umbrellas enjoy a higher retention than many  other promotional items, according to the 2019 global impressions study of the Advertising Specialty Institute (ASI)!
Versatility: Umbrellas will fit into any marketing plan, event and industry. These make a perfect handout for every genre of recipients including clients, prospects, employees, members, etc! Umbrellas never look out of place in any promotional context.
Limitless colors and prints: Umbrellas offer a spectacular range of color combinations and imprint possibilities that there is something that matches every promotional theme.
Models to die for! Umbrellas have evolved to be hot fashion accessories and props from being plain weatherwear items these days. Choose from an interesting range of models like inverted umbrellas, speaker umbrellas, USB umbrellas and a lot more. It is impossible not to fall in love with these exceptional umbrella models on offer.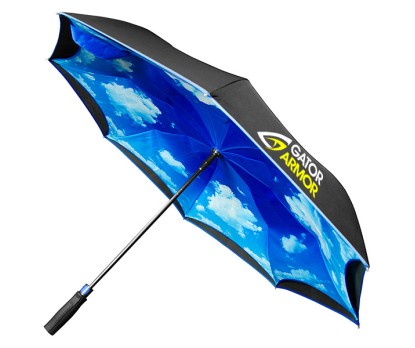 Gender neutral: Finding custom gifts that suit the tastes of men and women audience is easier said than done. When marketers settle for incredibly popular and unisex handouts like umbrellas, they will have a sure fire gift item on hand that will appease each and everyone on their list! Save time and effort in finding that perfect gift that is a hot favorite among both the XX and XY league!
Highly useful: Everyone need umbrellas – infact more than one for their home, office or on the move. Great for bad weather, as a fashion prop or to ensure anonymity, umbrellas will cater to the diverse needs of the users.
CLASSIC Gifts: Why give out something that will leave people wondering what they'll ever do with it? Umbrellas  get used the moment you hand it out!
Do share your promotional success stories involving custom umbrellas with us; follow us on facebook, twitter or Linkedin to stay on top of the promotional trends in umbrellas !