Personalized Custom Umbrellas- Make Your Brand Imprint Stand Out Always
 Express your brand message strongly with custom umbrellas that are hard to overlook. Offered in a wide range of models for game days, golf greens, beach or the daily errands, umbrellas have been around for a long time and will continue to be a trusted travel companion till humanity exists.
Choosing the right umbrella sis only half your job done . Unique personalization is what makes umbrellas special. Get it imprinted with jokes, inspirational quotes or artwork to make it one of its type!
Umbrellas are daily essentials for everyone who needs to go outdoors for work, play and everything in between. The incredible popularity enjoyed by umbrellas has made these great style statements as well.  Your brand imprinted on these will make your brand stand out from the crowd and help you create your own style statement.
Umbrellas are the perfect gifts for someone who frequently travels. The ergonomically designed models that bring together form and functionality will make a walking, talking billboard for your brand. Personalize with striking design or inspirational text to grab a few eyeballs easily.
Inverted umbrellas
Close the wet umbrellas inside out; and keep the rain water stay inside to save the floors from getting wet! This smartly designed umbrella is a winner. Printed Leopard ViceVersa Inverted Umbrellas with a dramatic leopard print on its inner canopy will make it a visual delight while the  black C-shaped handle that allows hands-free use of cell phones and other devices enhances its functionality
Fancy a pop of fashion colors? Look no further than these  Color Flip Inverted Folding Umbrellas. Offered in palette of brilliant color combinations, these automatic umbrellas open and close in reverse. The colorful background will make a great place for your brand and message. Go for it!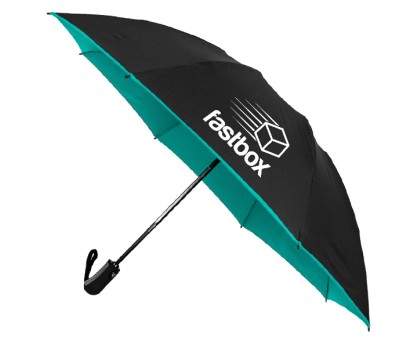 Golf umbrellas
Keep the golfers and the caddie safe from sun and showers while your brand imprinted on the massive canopy of Golf umbrellas gets all the attention from golfers and  the audience. As they say, golf greens make more business deals than board rooms. So, why not put your brand on a panoramic display to gain the attention of the golf loving businessmen and entrepreneurs so that you can enhance your business networks and brand popularity- that too through fun and games.
Golf umbrellas not just have a massive canopy but feature lightning resistant fiber glass ribs and handle and even a vented deign to make it withstand strong gales of the open greens. Your message imprinted on these brollies will never get sidelined for sure. You can employ these umbrellas for promoting golf clubs, golf leagues and even use it for fund raising for amateur golf players.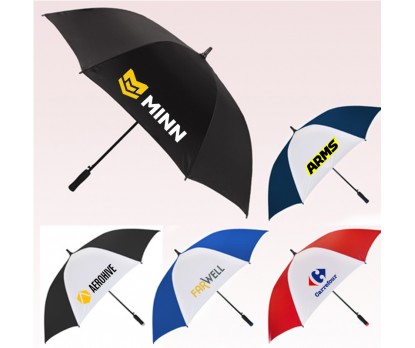 Beach umbrellas
High winds, stinging sun and surf might be a perfect setting for beach lovers. However, to stay safe from UV risks, they need a reliable beach umbrella. Choose from a range of popular colors and sizes, customize it with your brand and make impressions at one time investment! Beach umbrellas make a smart marketing swag for beach resorts, hotels and cafes among others. Should we say that anything imprinted over these pretty umbrellas will get a lot of attention!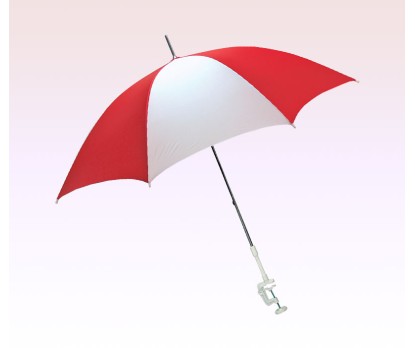 Which of these umbrellas are you planning to make your custom items? Share your ideas and follow us on facebook, twitter and linkedin to get the latest updates on custom umbrellas.