5 Effective Uses Of Custom Umbrellas in Marketing
Do you think even after using every available marketing channel, your brand still lags behind in popularity? If yes, consider including custom umbrellas in your promotional plan to leave a lasting impression. When you need when high-quality, eye-catching promotional products to advertise your business, umbrellas make a popular choice. It will boost your marketing initiatives by enhancing the visibility of your brand. The best part is that, umbrellas can be placed anywhere—inside your building, during  trade shows or even on the patio or entrance.
If by any chance, you haven't been using custom umbrellas as marketing tools,  you are missing out a lot. Here are some incredible benefits that custom umbrellas offer.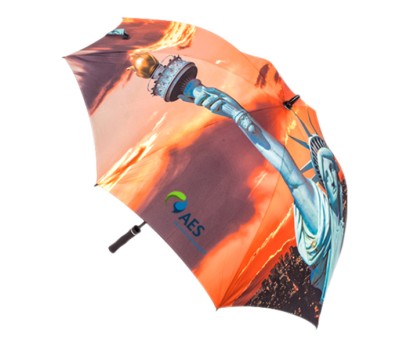 Easy to Use
Further, umbrellas are also available in various models and sizes. Whether you use it as outdoor umbrellas during expos or distribute for personal use to your customers, these logo items will ensure incredible brand display. Make the best use of the generous imprint space to advertise your company's logo, goods, and services to the target market. Available in a wide range of prices, you will find umbrellas that match every price rate.
Portable
Popular models like beach umbrellas or patio umbrellas can be placed wherever you like and removed as needed. Thus you have a portable billboard that will get your message across multiple venues at one time investment. Needless to say, your logo printed on these full color umbrellas will obviously be noticeable to everyone around you, no matter where you plan to use these. Choose from various models like those with  valances, tilting mechanism and more to suit the preferences of your target audience.
Grab easy attention of  your target customers
Patio umbrellas are ideal if you're showcasing your business at  high profile events like a trade show, conference or exhibitions. Your contact information like website url will drive footfalls to your site and you will also get higher conversion rates.
Custom umbrellas indeed make a classic way to advertise your business! They are easy to transport and are available in a multitude of choices at every price rate. Moreover, among promotional giveaways, umbrellas have the highest retention of 14 months. Make the best use of the imprint space on the canopy to highlight  your logo, message or artwork to perfectly display your advertisement without being intrusive!
Mobile advertisement that never stops marketing
Easy to put up and take off , umbrellas make incredible mobile advertising  that will take your message far and wide.  Besides, umbrellas will offer great chances to network with potential clients during trade shows and networking events. You can even use custom umbrellas for a product launch, sports event or even an in-store promotion.
Outdoor branding at its best
Outdoor advertising is surely a great tool in every  marketing armory. It will help marketers to get their message in front of the crucial foot traffic and ensure a dramatic brand display through the city centers. Every time your recipients carry these branded umbrellas , your message will be seen by more prospective clients.
 Highly practical handouts like umbrellas will go a long way in enhancing the engagement of your brand with the audience, thanks to its high visibility. Available in various brilliant colors, logo umbrellas will also grab the attention of people around as they pass by on their way to work or on the beach, gardens or other locations they frequent the most.
How do you plan to use custom umbrellas as your promotional tools? Share your thoughts with us in our comments section.