How New Businesses Can Use Custom Umbrellas in Promotions
New businesses often find it challenging to get a toehold in the highly competitive market space. To survive the environment and stand out in the competition, marketers need to come up with fresh ideas and interesting giveaways like custom umbrellas to make new leads.
These high utility gifts will make a great investment for any new business.It will work out way cheaper than media advertisement like press or TV which yields little or no result because almost everybody is doing the same thing. When resources are sparse, such promotional tactics may even lead to waste of money in some cases. Reports show that high utility promotional items such as custom umbrellas are one of the most effective ways to promote business today. As umbrellas remain open outdoors, it will keep your name and brand in front of your target audience.
Why Promotional Umbrellas
Starting a new business can be tough. Apart from standing up against the competitors, these businesses should also promote their brand and make their business popular while sticking to the modest budget. Winning new customers to your business is easier said than done. Every new business requires more attention to make a niche in the market. When you need proven strategies that seldom fail, custom umbrellas will make a great choice. This is because umbrellas appeal to many people irrespective of age or gender.
Assured ROI
Most marketers may find investing in custom umbrellas an expensive option due to its apparent high sticker price. However, these logo items will make consistent impressions at one time investment thanks to its long shelf life and high practical value. New businesses cannot afford to make a risk while choosing their promotional giveaways. When your budget is low, businesses should ideally invest only where they are sure of possible return. Logo umbrellas make a great investment as they create a long lasting impression and impact on the customers.
How to Make the best use of Logo Umbrellas
New Businesses can make use of custom umbrellas in a number of ways. Firstly, they can use as display boards for their brand. Businesses such as restaurants and cafes can put custom umbrella printed with their logo during trade shows and special events. Additionally, custom umbrellas can be used as gifts and giveaways.
Choose from a wide range of models including mini umbrellas to golf umbrellas and everything in between. Consider the life style and preferences of the audience to choose a model that you think will impress them. For instance, if you are reaching out to a golfing community, look no further than golf umbrellas that are designed for the greens. Lightning resistant and wind resistant, these massive umbrellas are here to stay forever.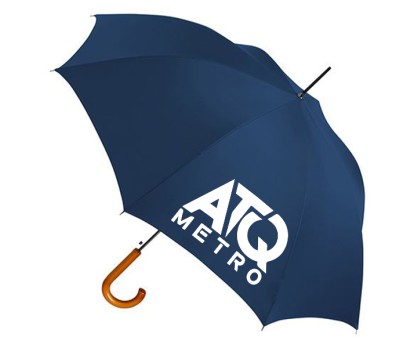 Easy to customize
The massive imprint space on the canopy of umbrellas is indeed the winning point of logo umbrellas. Use your creativity and imagination to create a unique design that will catch all eyes at the very first sight. Umbrellas are available in different sizes, colors, designs and materials. Choose a model that will complement your corporate colors and branding theme.

Introducing your new business to a new customer base is indeed an overwhelming task. So, leverage a proven strategy like including custom giveaways to make new leads and make your business stand out.