Promotional Umbrellas Make Popular Appreciation Gifts for Customers And Employees
What makes custom umbrellas stand out in the sea of custom products? It is big, bright and above all will make a statement! The high utility advantage of custom umbrellas will make it a great gift choice. Did you know that not many people actually go to the store to buy a custom umbrella? So everyone will use free umbrellas if they had one. There are countless people out there who don't own an umbrella because it never crossed their mind to buy one.
Not all promotional gifts are popular; but as long as you can think20 of something that people can appreciate you have a definite advantage. Umbrellas are definitely appreciated by customers because these are useful in everyday life and are offered in a range of attractive colors and prints. Customize these umbrellas with your logo, slogan and name and you are all set to grab the attention of the world outside.
Custom umbrellas are available in a range of sizes including extra large models like patio umbrellas to small tote umbrellas and a lot of other models. Choose an umbrella model in a standard color of your choice, Customize these with your brand, artwork or message and you are all set to have the hottest promotional items in town. You can use custom umbrellas as marketing gifts, employee appreciation gifts and customer appreciation items among others.
You can even choose custom umbrellas of different sizes, which will allow you to choose a model that will let you choose how big you want your promotional gestures to be.
Here are some of the custom umbrellas that can be considered for your upcoming campaign
Blue Sky Double Layered Umbrellas : Ideal for all round the year promotions, these double layered umbrellas will have a double layered design with a sky pattern imprinted beneath.  These are great for beach promotional items and concerts among others.
Super-Mini Telescopic Folding Umbrellas: Presented in a range of solid color choices, these handy folding umbrellas are easy to store and pack. Customize these with your brand and message and make these logo items a great promotional gift.
Custom Printed Full Color Golf Umbrellas: Brilliant colors and solid tones are what make these umbrellas the ultimate head turners. These golf umbrellas will put your brand on a wider display along the greens and even beyond. You will be surprised at the word of mouth publicity that these logo umbrellas will get!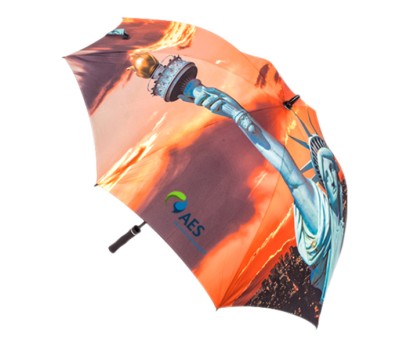 Have you used custom umbrellas as your promotional items? Share your thoughts at the comments section below.