Simple Buying Guide For Golf Umbrellas
Golf umbrellas are not just about massive canopy and brilliant colors. A host of other features go into these popular umbrellas to make it an absolute crowd favorite.
Here are some of the essential features that should be considered while buying golf umbrellas.
Handle
Golf umbrella handles can be of different materials like wood, plastic, and metal. Ideally the handle size you choose should ensure a firm and comfortable grip. Too small or very large handles might not be a good choice. Some golf umbrellas can even be customized on the handles for a subtle brand promotion.
Material
Golf umbrellas  have components of fiberglass, steel, or wood. Fiberglass, is  definitely a popular choice as it is extremely strong yet lightweight. Moreover, it is considered as the best material for constructing golf umbrellas.
Fiberglass tubs and frames will make the umbrellas sturdy and wind resistant. The umbrella canopy should ideally be Polyester or pongee  for its excellent waterproof capabilities. It is relevant as the golfers may use umbrella in wet conditions such as rain or snow.
UV protection
UV resistant canopy is an added advantage for golf umbrellas, as it will protect the occupants from the sun and its damaging ultraviolet rays. Umbrellas with a UV protection rating of at least 50 will be effective in protecting you from the harmful effects of the sun's rays.
Deployment Mechanism
Besides, golf umbrellas are available  both in automatic and manual models. The players have to open manual umbrellas themselves. For this reason, this model may not be a hot choice. On the other hand, auto open golf umbrellas are easier to open. Hence, the golfers can focus on their game even when weather turns bad.
Where to use custom golf umbrellas
Additionally, golf umbrellas are not just for the greens anymore. It will indeed make a perfect corporate gift for your employees and clients. Umbrellas are a practical and stylish items that will fit the bill in every angle. Choose umbrellas  from a multitude of models, sizes and price rates. Customize it to advertise your brand and keep your recipients safe during inclement weather. What makes umbrellas stand out is the fact that they are useful, durable, and above all fashionable.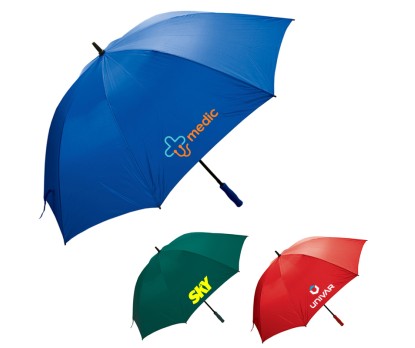 Have a better idea to use custom golf umbrellas as your swag? Share your thoughts with us on our facebook page.