What makes Golf Umbrellas Effective Brand Building Giveaways
Golf umbrellas keep the golf players and their equipment safe  from the elements.
Bringing together the best of both the worlds of maximum coverage and mobility, golf umbrellas have become popular both on and off the golf course these days. Its impressive coverage can provide shade for more than a single person, which makes it ideal for family and friends. Likewise, the light weight yet sturdy construction enable umbrellas to withstand strong winds and stand the test of time.
The best ways to distribute
Umbrellas are ideal as milestone gifts, corporate giveaways or golf memorabilia among others. Your clients will be extremely grateful when they receive great gifts like umbrellas. It is just what they need to brace up to the weather challenges.
Marketers can also use custom golf umbrellas to promote sports events. These brilliantly colored custom umbrellas  will display your brand on the stands and beyond! It will even become a game day souvenir for the sports fans and an incredible conversation topic as well. Your message will also get a fair share of publicity if the rain descends  when the event is televised far and wide . Can there be a better way to create a huge impact for your brand?
When to give out your promotional umbrellas can have just as much impact as the umbrella itself, in ensuring a successful campaign.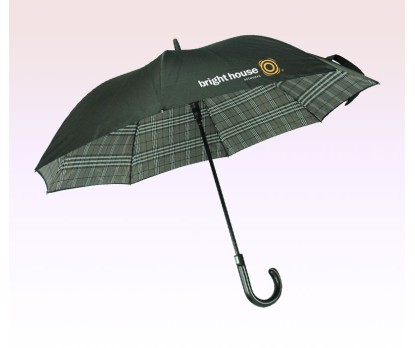 Striking imprint space
The large surface area of golf umbrellas turn it into a creative  canvas for the promotion of businesses and brands. Golf umbrellas are not just for golf themed events but can be used as employee gifts, client rewards and even store promotional items
Size and Coverage
Though large umbrellas provide a lot of coverage, they can be difficult to carry and store. 62″ golf umbrellas are the most common size in golf umbrellas as it ensures both coverage and mobility. Smaller sized golf umbrellas are ideal for a single golfer, while the largest golf umbrellas can accommodate a group of players at once . You can choose models that meet the needs of the audience and your budget to ensure the best outcome.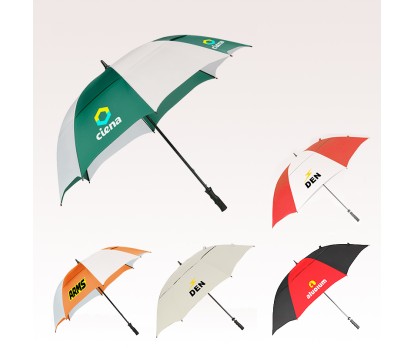 Wind and lightning Resistance
Golf courses are large open spaces, which makes it highly breezy and prone to lightning risks. For this reason, you  can choose wind resistant golf umbrellas that can endure winds without getting toppled over . Umbrellas with double layered canopy with vented design will let wind pass through them easily.
Interested to know more about golf umbrelals? Watch our blog posts or reach out to our product experts to stay on top of the trends.