Best Custom Antiwind Folding Umbrellas For Outdoor Publicity
With rains lashing the streets, the sight of people struggling with their toppled umbrellas will become common! Umbrellas that get blown inside out will spoil the day , leave people miserable and late for the daily errands,  business meetings and more.
Promotional anti wind umbrellas make a great handout to make new leads and appreciate existing clients. Your logo imprinted on these will remain highly visible even when the umbrella is shut thanks to the generous imprint space at the case and handle.
Umbrellas give you the flexibility to be understated  or bold as you wish in getting your message across! If you fancy a subtle and low key way of spreading the word, consider imprinting the inner canopy of umbrellas with your brand and message. The massive outer canopy in a range of solid colors or patterns will make a great place to position your brand and make a lasting impression.
Here are some windproof umbrellas that will save your day.
62 inch Arc Vented Golf Course Umbrellas have a manual open, vented design that will make it strong enough to withstand heavy winds. It makes a perfect choice for the beach, golf greens and daily errands.  Looking for something bigger and mightier? 68 inch Vented Umbrellas offered in 8 different Color choices will make a great bet.  The wind proof canopy and fiberglass frame with metal shaft will make it a reliable option for rough weather and winds up to 55 MPH.  Light weight and lightning resistant, these umbrellas are great for golf greens and every day use.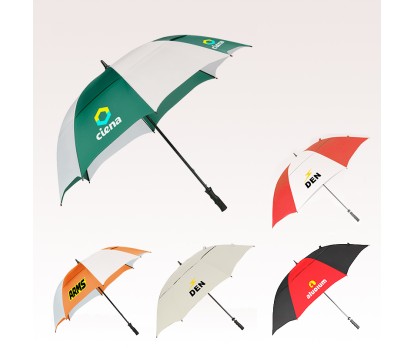 Wind proof umbrellas are not just for the greens or the beach. You need these for everyday use as well. Check out this 46 inch Arc Personalized Umbrella with  a unique windproof canopy. Handy and easy to use, these automatic umbrellas make great handouts for employee appreciation events, milestone events, tradeshows and more.  Offered in a wide palette of attractive colors, these can even be used as retirement party gifts or family reunion handouts
Studies prove that the most popular handouts are the most functional. So, marketers looking for a value added gift for their audience will find these umbrellas a perfect choice.
Vented Typhoon Tamer Umbrellas have a windproof, sturdy and lightening resistant construction that make these umbrellas a great choice during the most challenging weather conditions. Having a reliable umbrella on hand will make anyone feel reassured. Your brand imprinted on these solid colored umbrellas will obviously get a lot of attention and will even double up as a talking topic for everyone.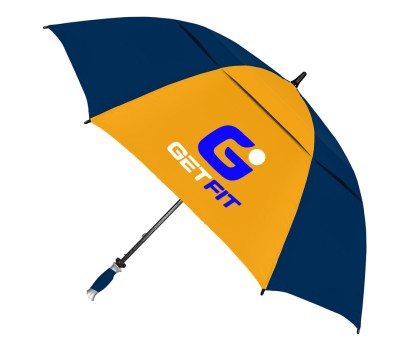 Are you planning to use windproof umbrellas as your promotional items? Share your ideas with us on our Facebook to join an interesting  discussion.