Custom Umbrellas – Keeping Up With The Evolving Umbrella Technology
Umbrella technology is always evolving to unveil some of the best and the most effective umbrella models in the last decade. Looking for a promotional handout or may be a wedding gift or family reunion gift that will please everyone and match your budget. Look no further than custom umbrellas.
Why umbrellas
Limitless options: Umbrellas offer options like never before.  Right from small and compact mini umbrellas to quirky inverted umbrellas and massive golf umbrellas and more, you have something special for everyone here.
Massive Imprint space: The massive imprint space on the canopy is undeniably the biggest trump card of umbrellas. It will make your logo and message stand out in style and get the attention of people around even from a long distance. It can be of crucial importance during mass events like tradeshows or beach events.
Versatility: Everyone needs umbrellas. Whether it is as weather wear items, props or fashion accessories, umbrellas get regular usage everywhere. The big plus -umbrellas never go out of trend and make a perfect handout for all types of events- both personal and promotional, which will further boost its popularity. These are gender neutral as well. So, if you have a diverse and speckled audience comprising of people of all age groups and demographics, gifts like umbrellas make a great choice.
Now for some trending models that will change the way people use umbrellas
Compact Reverse Umbrella!
The newest version of reverse-opening technology is a huge. These auto open umbrellas collapse in reverse to keep the rain off you and away from your stuff and out of your car. Inversa inverted umbrellas will make a great model to get started.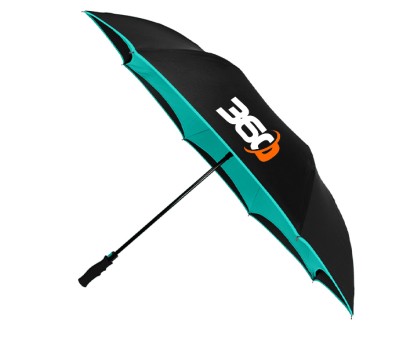 The fiberglass shaft and ribs will add up to the strength while the rubber-coated handle will ensure a firm grip. Offered in some brilliant color choices, these reverse umbrellas are likely to be a trend-setter in promotional circuits.
Your clients, employees or customers will find the reverse open and close system of the umbrella handy in keeping the water stay away from you. There are C handle inverse umbrellas too. These will make it possible for the users to carry their phones and keep the phone in place without dropping the umbrellas or balancing it awkwardly over the shoulders. Choose from a range of lively color choices.
Fashion Print Reverse Umbrella
Reverse umbrellas are not just fashionable but functional as well. While these keep the water stay away from the users, their stuff or the car floors, thereby keeping the users dry all through even in pounding rain, these umbrellas make great fashion statements as well. Offered in brilliant color choices and even dramatic leopard prints and more, these umbrellas offer a lot of choices to consider. Leopard Inverted Folding Umbrellas are great models to consider.  Choose from various spectacular designs like Dress Polka Dots, Sky and cloud and more that have made its debut recently.
We have a lot more. Browse our collection and choose a model that matches your theme.