A Few Interesting Ways To Use Custom Umbrellas
The incredible utility and fashion attributes make custom umbrellas a perfect choice for both personal and promotional events. These make gifts of a higher perceived value that your audience will truly cherish. Offered in a wide range of models, colors and designs, umbrellas indeed offer a lot of choices for you.
Here are some interesting ways to use custom umbrellas
 As Promotional Tools
Custom umbrellas make perfect promotional tools for your business. Get your logo and message imprinted on the canopy and be carried everywhere the umbrella is taken!  Whether you plan to hand these out as referral gifts for your loyal customers or appreciation gifts for your employees, your logo will get a creative and convenient canvas that attracts easy attention.
The best part is the incredible customization option that custom umbrellas offer. Get your taglines, quotes, call to action messages or more on its canopy to make it an eye catchy billboard for your business.
What makes umbrellas a perfect branding strategy? Custom umbrellas will literally take your message right into the middle of your target audience. Gain easy attention of your audience without being intrusive and engage your customers with your message in a fun and creative way. Umbrellas are born crowd pleasers that will get the undivided attention of people around wherever the umbrella goes!
As team spirit items
If you thought sports jerseys are the best way to show your team spirit, hold your thoughts for a moment. Check out this stunning range of golf umbrellas in various colors and hues. Match it with your brand colors, get it imprinted with your mascot and team anthem and you are all set to take the greens by storm!
Not just the golf links, but these make excellent team spirit items for all types of booster clubs and sports leagues. Every time your players go out for a practice or wait in the stadium, these bright brollies will earn the attention of everyone around. You can even sell these imprinted umbrellas to your fans as keepsakes and game day souvenirs.
Umbrellas have a very high retention of over 14 months or more. So, just imagine the exposure your brand and message imprinted on these will get for a long time even after the event.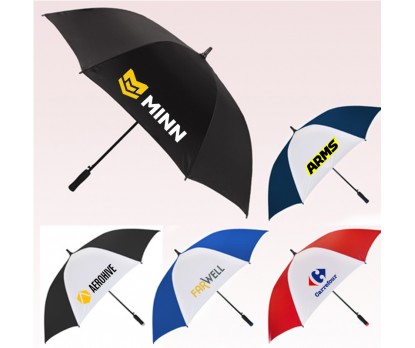 As Personal Gifts
Custom Umbrellas make excellent gifts for any occasion. Whether as wedding favors  or birthday favors and more, umbrellas make creative gifts that your audience will find special. The massive canopy will double up as a creative canvas for you to convey your emotions and greetings with ease.
As A Means of Self-Expression
Highlight your social commitment, your favorite hobby or in fact anything to celebrate your individuality with custom umbrellas. The canopy will make a great place for you to give shape to your creative ideas that defines who you are and all your interests. Everytime you carry these around you have a great means of self-expression and an artistic design to go well with any event.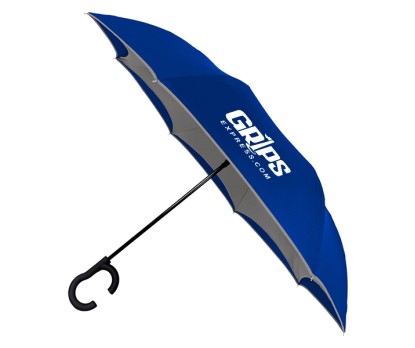 How do you plan to use custom umbrellas as your publicity tools? Share your ideas with us on facebook to join an interesting conversation.