Popular Types Of Custom Umbrellas- Everything You Need To Know
Umbrellas are available in various popular models and colors.  It is the eclectic choices that make umbrellas a great promotional item. When you have a diverse and hard-to-please audience, the promotional gifts that you have should also be as unique and interesting.
 Golf Umbrellas
Perfect for a day out in the greens or corporate golf holiday, these custom umbrellas will elegantly show off your team mascot and colors to make a winning statement on and off the field. Choose from various sizes, colors and specifications to match your needs and budget.
Interestingly golf umbrellas have crossed over to daily life from the golf grounds these days. The massive canopy of golf umbrella makes it  a perfect choice for families, or couple or a bunch of friends. Make use of the popularity of golf umbrellas to go the distance.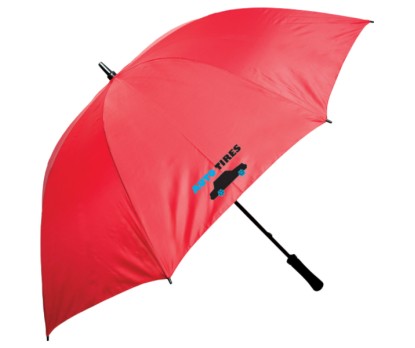 Walking Umbrellas
Standard Umbrellas make your handy companion for long morning walks and hot days out in the sun. Get your logo and message imprinted on the umbrellas to add a creative streak to your daily requirement.
Folding Umbrellas
Convenient and easy-to-carry, folding umbrellas will get your logo on the move. These make great handouts to your travelling employees and clients. Choose from a wide range of classic colors and customize it with your message to make it stand out.
Anti wind umbrellas
Beat the storm and the high winds with custom antiwind umbrellas. The unique design of the sturdy umbrellas allows for wind to flow out easily without overturning the umbrella. Your recipients will indeed stay loyal to your business that has handed out this highly practical gift. A well customized antiwind umbrella will grab easy eyeballs by standing aloft in the raging winds while your brand gets the spotlight!
Beach Umbrellas
Any time is beach time when you have these sturdy and stylish beach umbrellas offered in various brilliant colors. Customize these with your design and message for promoting outdoor events, beach restaurants, hotels, and other businesses. The best part is that beach umbrellas are used in picnics, golf days and tail gating parties. So, your message will get a wider audience even when the beach season ends.
Patio Umbrellas
Line your outdoor space with creative and colorful umbrellas to make a great display board for your business while adding a welcome touch to your outdoor events. Choose patio umbrellas from a wide range of models and colors to match your theme and impress your audience. Your message imprinted on these massive umbrellas will never get overlooked.
 Kids Umbrellas
Fun printed umbrellas that can easily be carried by children will make a great handout for back to school events and other promotional events. These unique  kids umbrellas are something children will love to show off and talk about in their friends circles.
Need more? Browse along and choose a model that matches your theme.