Best Wedding Umbrellas for the Rain and Sun
Wedding umbrellas not just protect the couple and their guests from weather elements but will make perfect wedding props for snapshots. Here, we take a look at some of the cute personalized wedding umbrellas for you and your guests. Rain may spoil even the most well planned event, however on the plus side, rain will give some gorgeous wedding photos at the backdrop of the rain drops. So, here are some of the wedding umbrellas that you can consider- come rain or shine!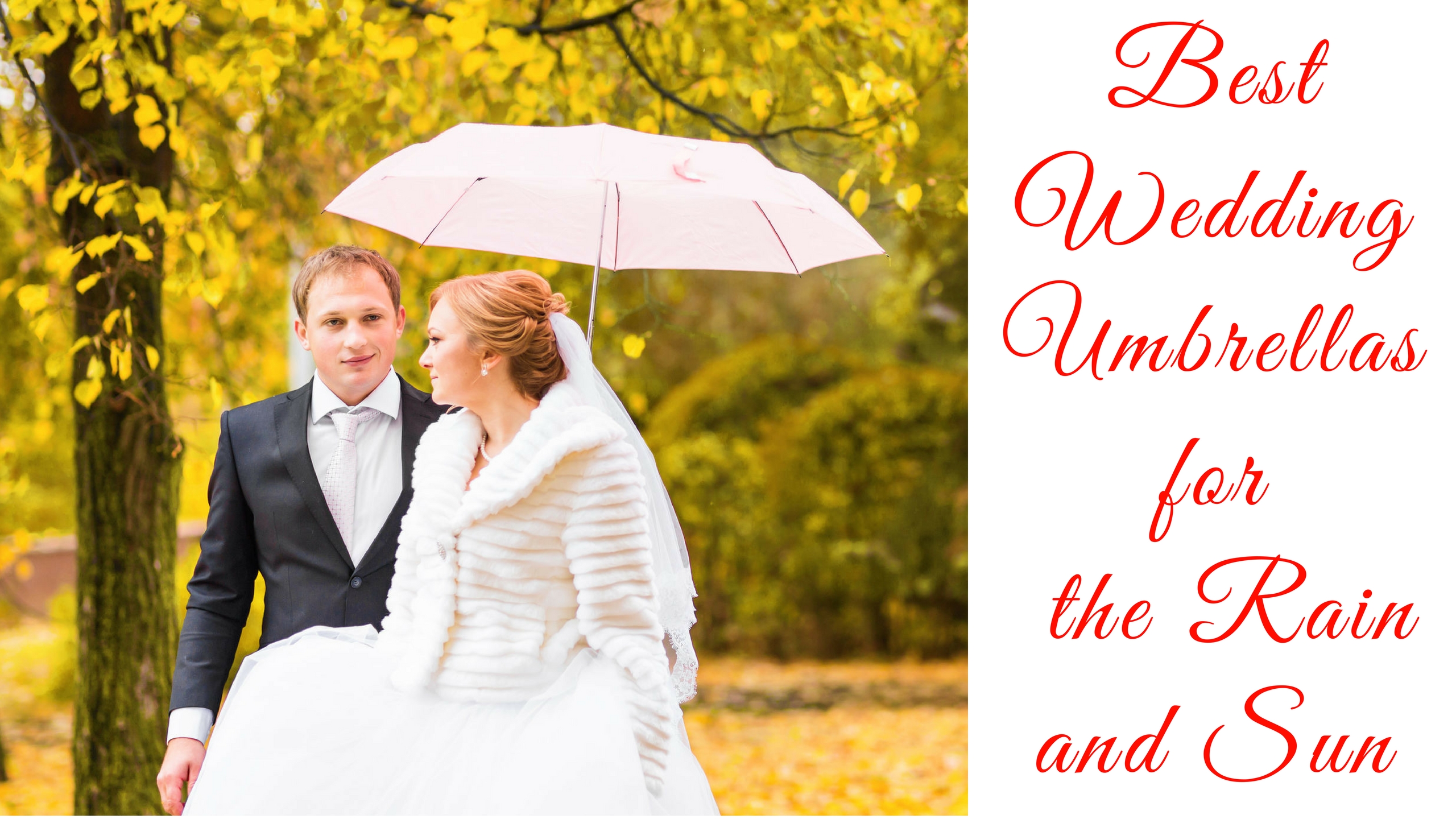 Clear bubble umbrella
Bubble umbrellas add a fairy tale charm to any wedding and will let the couple soak up the fun of the rain without getting wet and share the glimpse of their first kiss as man and wife to everyone around! Your guests will look great in these transparent bubble umbrellas in all those impromptu fun snaps too. Clear Bubble Umbrellas with Hook Handle with colored rims will add a bit of pop to the wedding photos as you can match it with the wedding colors or the backdrop. Clear umbrellas are simply great as the couple can stay shielded from the rain while staying visible for some great photos.
Pagoda Parasol
46 inch Wedding Parasols Auto-Open Floral Ladies Ruffles Style: Recreate the magic of the old world royal weddings with these logo parasols and add an oriental charm to your wedding settings. The delightful shape of these umbrellas will instantly turn heads and will add up to the milieu of even a simple wedding function. Available in various colors, you can easily shop for umbrellas that complement your wedding theme.
Bridal Shower Wedding Red Floral Ruffles Umbrella Parasol With Gold Frame: These contrast colored ruffle parasols will add specks of color and brilliance to the wedding event. These pretty and delightfully feminine parasols will make a perfect accessory that will stand out against the white wedding gown of the coy bride.
Lace Parasols
Lace parasol might not keep you dry but will make you look great in all those wedding snap shots. 46 inch Auto-Open Floral Ladies Ruffles Style Folding Umbrella, will thus make a perfect bridal accessory for any summer wedding.
Anti wind umbrellas
Let your guests not get drenched when the winds turn the umbrellas upside down on your wedding day. These wind proof umbrellas are available in a range of vibrant colors including black. So, if you need a color that stands out in all those wedding snaps go for black. Don't you like wearing black on a wedding day? No worry, you can choose from a wide palette of other colors and prints.
Polka Dot Umbrella for Weddings
If a black umbrella is not your color on a wedding day, check out these polka dotted umbrellas that will surely lighten up the mood of your wedding day.
Umbrella Photo Props
Another smart choice to use umbrellas will be as photo props at your wedding. Choose any full color umbrella, imprint your message, initials or "Just Married" on it to make it a unique accessory. You can even use paper umbrellas if it is a summer wedding.
White umbrellas for the guests
White wedding umbrellas will come handy for the guests during rain or sun and will keep your guests happy and well groomed even during any wedding weather mishaps.
We can't help being talkative on this fabulous range of custom wedding umbrellas. Take a look to pick your choice and tell us how you find the shopping experience. Need any tips or shopping assistance? Just give us a call and leave the rest to us.