Custom Umbrellas – Ensure Daily Brand Impressions On A Budget!
Promotional gifts that make consistent brand impression without any repeat investment or effort are considered as the best and the most popular logo items. Probably the first thing that comes to everyone's mind in this context will be umbrellas. Everyone needs umbrellas to stay safe from bad weather and to accentuate their style statements. So can there be a smarter way than to put your brand on the move than getting it imprinted on umbrellas? Offered in a range of styles, colors and sizes, umbrellas ensure consistent brand impression for your message and enjoy a long retention among the audience. Versatile and functional, umbrellas can be used to promote all types of brands and businesses as well.
It was an umbrella that played the pivotal role in the classic movie "Mary Poppins." Umbrellas even have pop[ songs to its credit  and have become themes of paintings and oriental wood block prints. Though umbrellas are something everyone needs, not many people remember to buy one for themselves till they are stuck in bad weather. It is another factor that makes custom umbrellas popular freebies. Anything imprinted o  its massive canopy will grab the undivided attention of everyone around.
Here are some of the popular umbrella models that can be considered
Windproof umbrella
Windproof umbrella is a top pick because it will give a reliable weather wear item that will stand up against gales and high speed winds. By putting your brand on an umbrella that will not get blown inside out, you can enhance the brand engagement in a subtle and non intrusive way. These umbrellas have fiberglass ribs that are flexible yet sturdy enough to maintain the canopy shapes of the umbrellas in gusts and wind. 58 inch Arc Vented Little Giant Folding Umbrella is a perfect example for these umbrellas.
Telescopic umbrellas
Light weight and compact, telescopic umbrellas are highly portable and well suited for everyday use. Customize these with your brand and message to make it a popular promotional item that your clients will cherish for a long time. 42 inch Arc Budget Telescopic Umbrellas is a good example of these umbrellas.
Bubble umbrellas
Fashion meets functionality in these attractive bubble umbrellas. The transparent canopy will allow the users a clear view around even when the rain is falling over their heads Customize these with your brand and message to make it a high visibility promotional gift that everyone will celebrate.  These pretty umbrellas will also fare well as party favors, wedding gifts and holiday handouts among others. You can consider popular models like  Clear Bubble Umbrellas with Hook Handle and ensure a dramatic makeover for your brand.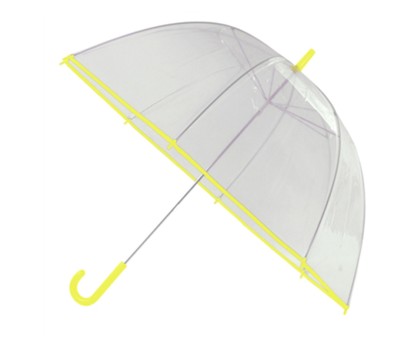 Share your feedback of using custom umbrellas as your marketing tools in our comments section and join an interesting conversation.