Promotional Umbrellas – Better Than the Best!
Custom umbrellas will fit the bill of every marketer looking for a budget friendly gift that enjoys an incredible crowd pulling capacity and versatility that make them ideal in every promotional context. Offered in a limitless range of choices and colors including neon colored, multiple panel designs and even animal printed models, umbrellas will match every promotional theme. The first and the foremost feature of umbrellas that make them peerless promotional items is its versatility, which makes them ideal gift for all types of audience groups including old, young and kids. So, if you are expecting a diverse audience groups as in tradeshows, look no further than umbrellas as your handouts.
Umbrellas have come a long way since its origin as ornamental and religious items that were used in various ancient civilizations around the world. These days umbrellas are available in various designs like wind proof models, mini umbrellas and even models that fold upside down to trap rain water inside and keep the surfaces clean. There are light weight and compact models that are perfect for travel and fit the glove compartment. An average user needs umbrella for his home, car and office. So, you can imagine the exposure your brand will get on these daily use items.
Custom umbrellas are available in various models to cater to your promotional budget and the needs of your target audience.
Folding umbrellas: These will make a great choice for commuters and people who travel regularly. For the same reason, these make great corporate gifts and employee appreciation handouts. Customize these with your brand and message to make your brand portable.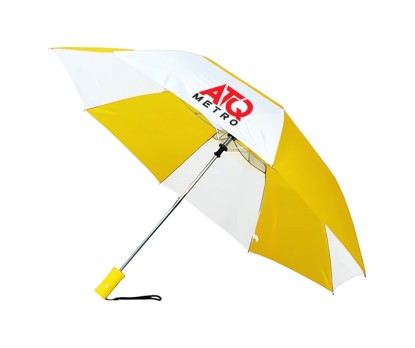 Manual open umbrellas:  hold a great promotional potential and have many takers. This will make a classic marketing gift to impress a mature audience or elderly community. The solid shaft and the fewer components of risk of failure will make them long lasting and well retained.  Put your dime on these great- value for money products and make consistent brand impressions. These umbrellas are sturdy and ensure maximum protection and coverage.
Mini umbrellas: Everyone will love these umbrellas that fit into the glove compartment or bags. Your brand and message on these will get a lot of attention and appreciation. These make great tradeshow swag and store promotional items thanks to its compact design and portability
Oversized umbrellas:  A perfect handout for everyone who wish to live life king size. The massive canopy of these umbrellas will make a great place for your brand and message.  Stand out of the crowd and see the competitors see red with these imprinted umbrellas
Which of these custom umbrellas are you planning to make your promotional items? Share your thoughts with us at our facebook page and join an interesting conversation.