Custom Umbrellas- Giveaways that Anyone Would Love
Often marketers find it hard to choose gifts that will impress everyone on their list. It is easier said than done at times considering the different life styles and preferences of their prospects and the promotional budget constraints businesses may have. However, there is something to cheer about  the gift idea of custom umbrellas.
Whether you are looking for the quarterly giveaway for your team, a referral gift for your regular customers or a milestone gift for your clients, imprinted umbrellas will make a fabulous gift choice. If you have been out of gift ideas which could be useful for your employees, look no further than logo umbrellas. Everyone needs it in their daily lives uses and these handouts of high perceived value are something people love to show off during outdoor events like picnics or game days. So, make your umbrellas a little bit extra something by getting your logo and message imprinted on it.
A great model where you can freely showcase your brand is the budget friendly range of mini umbrellas. A useful accessory that will easy fit bags, these travel size umbrellas in a wide range of colors will not just save them from bad weather but enhance their style statement as well.
Looking for a bigger model that will impress your employees or clients that follow an active and outdoorsy life style? Golf umbrellas are the best options. Choose from a wide range of models including full color models that will make eyes pop in the greens and beyond. Get your logo, artwork or mascot imprinted on the massive canopy of golf umbrellas to make it extra special and engage the audience with your message in a light hearted way.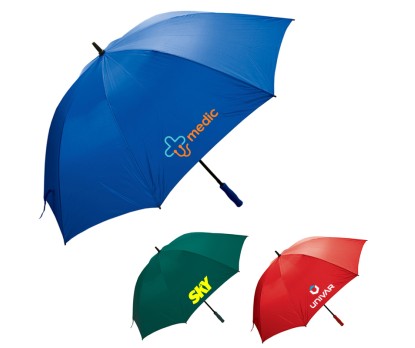 You may order it in bulk so that you can share it to your employees, business associates or customers, because umbrellas are versatile giveaways that will impress everyone.  Bulk orders will help you get the best discounts and save on your promotional dollars while stocking up custom umbrellas for your upcoming outdoor promotions
Imprinted umbrellas will go a long way in  boosting your summer promotions and outdoor brand visibility. Beach resorts, golf clubs, camping holiday makers can all exploit the popularity of custom umbrellas to make their brand easily spotted and recognized. Need more tips on the best ways to use imprinted umbrellas? Reach out to our team for inspiration!