Why are Printed Umbrellas Perfect Giveaways for Business Promotions
Umbrellas are excellent, practical promotional items to enhance your outdoor brand visibility.  Put your brand under spotlight 365 days a year irrespective of whether it is rain or shine as custom umbrellas are guaranteed to be in use, whether  at work, at an event, or over the holiday weekend.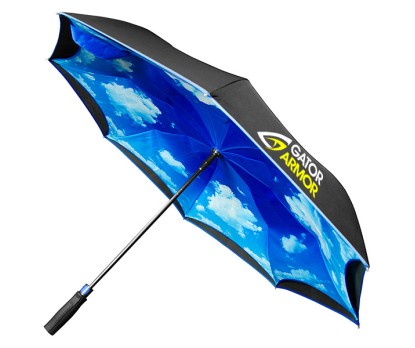 Promotional umbrellas offer more value for your promotional dollars and  make ideal gifts for sending out to clients or customers. Offered in a wide selection of styles and colors, you can easily choose a model that suits your brand. Whether you are investing in standard umbrellas or something trendy like inverted umbrellas or full color fashion umbrellas, there is something special for everyone in custom umbrellas.
Choose from a wide range of fashionable umbrellas in bulk to be prepared for all types of events – both business promotions and personal events. A perfectly imprinted umbrella will not just get a warm welcome and high retention but will even make a great talking topic among the recipients!
Portability
Umbrellas travel easily with your recipients, which makes it a rolling billboard for your business.  It will make a practical promotional solution that is easy for your customers to carry around and be for them when they need it the most.
Versatile
Promotional umbrellas spread brand awareness and put your brand in front of your customers without being intrusive. Let's be frank about, every time your employees or clients step out with an open umbrella, they become your biggest brand advocates. Choose from a wide range of fashionable models that are designed keeping in mind the current fashion trends up to the minute!
Something special for everyone
Umbrellas have indeed come a long way since being plain black umbrellas. From classic wooden hook handle umbrellas to hands-free umbrellas, windjammer umbrellas and double canopy umbrellas, you can choose from an endless range of models in every price rate.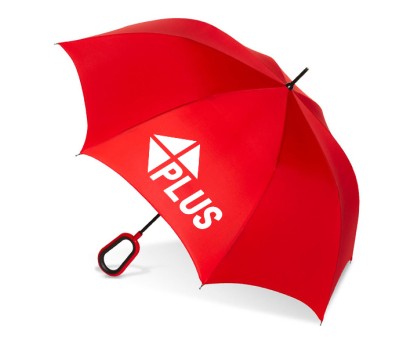 Perfect as gifts for every occasion, or simply to add as an outdoor accessory, custom umbrellas make high quality and elegant giveaways that are hard to miss. If you are looking for high standard giveaways that complement your prestigious brand identity logo umbrellas will make a great choice.
No matter whether you are looking for fashion umbrellas, auto open umbrellas, antiwind umbrellas, golf umbrellas or something more , we have got you covered. Explore our complete line of custom umbrellas to choose a model that suits your needs.