Custom Umbrellas- Handouts That Will Please Every Genre Of Audience
Ever wondered what makes custom umbrellas a great handout for business promotions, personal events and milestone celebrations? Here are a few factors about custom umbrellas that you might not have thought about.
Let's be frank about it. Nobody can do away with umbrellas and if your customers are among the 324 million Americans who don't live where it's always sunny, these tips on logo umbrellas will surely be of interest to you.
Promotional umbrellas may not be the least expensive promotional products around. However it is worth your dollars considering its long retention and incredible brand impression that these everyday items can generate.
Everyone loves umbrellas
25% of U.S. consumers own promotional umbrellas according to reports. To put it in another way- one in four people you see on the street have at least one umbrella that  bears the message of some business organization.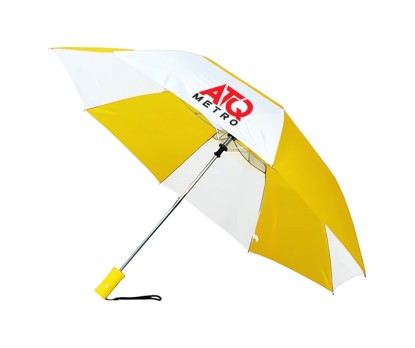 83% recipients state that they would like to retain a promotional umbrella for its usefulness. Umbrellas indeed have a high perceived value in the consumer's mind and  an umbrella is always well appreciated gifts.  Just think of the positive vibes your consumer may have towards your brand every time they use these imprinted umbrellas given out by your business.
51 percent of users say that they are likely to do business with the advertiser who gave them the umbrella. So, you have a lot of ground to cover considering the fact that only half of this group already has logo umbrellas!  Thus, if you are looking for a custom gift that will get a thumping reception, look no further than imprinted umbrellas – nobody can ever resist it!
High retention
Consumers keep umbrellas longer than any other promotional item measured. The incredible staying power of umbrellas makes it a Goliath among logo items. Promotional umbrellas enjoy a retention of an average of 14 months- which is nearly twice the average for all promotional products.  Thus your message on custom umbrellas will stay nearly twice as long!
Umbrellas Generate More Than 1,300 Impressions During its shelf life
Umbrellas enjoy extra visibility as these are well retained and make an average of  1,300 impressions all round the year before these are done. Your recipients who  will see your branding, remember you and be interested to do business with you. Every time someone opens your custom umbrella, your message pops right along to be displayed among everyone around, probably including quite a few potential prospects.
If you are looking for custom products that will make your branding campaigns more efficient and successful, logo umbrellas will make an obvious choice. Contact us to choose the most trending umbrellas and  get your message well spotted-  rain or shine!