Custom Umbrellas – Let Not The Weather Blues Hamper Your Business Promotions
Often promotional items are season specific; it may be less useful during other times of the year. However, if you are looking for a custom gift that will boost your branding campaign even in bad weather, look no further than custom umbrellas. It is the only item that comes to one's mind every time the sun is out or the rain clouds bursts.
 Even in pleasant weather, people love to carry their fashionable umbrellas around to add a distinction to their profile. Custom umbrellas imprinted with your logo makes a functional and budget-friendly promotional tool that work nonstop for your brand 24 x 7!
Umbrellas as promotional items
Umbrellas may not seem an obvious choice as a promotional item for most people. However, here are some unbeatable advantages of   imprinted umbrellas that will tempt you to consider it as your marketing item should you haven't used it before.
Durability : A well-constructed umbrella will last many years. So, just image the impression that your brand imprinted on it will make during its life time. It will be seen by hundreds of people around while your prospects have a high utility weather item for summer and rainy season. Umbrellas enjoy retention of over 14 months, which is one of the highest in promotional items. So, that is another valid reason for you to invest in custom umbrellas for your forthcoming events.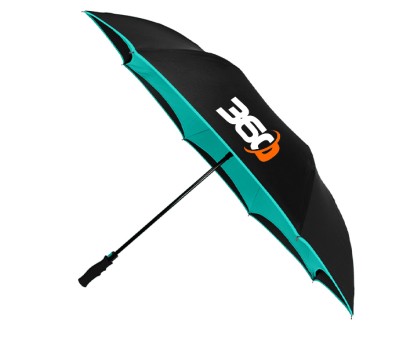 Attention grabbing:  Umbrellas get attention, even in a downpour! So, while most promotional events grind to a halt during bad weather, umbrellas prevail. Make sure to combine your brand with your company colors to make it more prominent for anyone who sees it from across the street.
Subtle branding : The logo imprinted on the panel of the umbrellas need not be intrusive as in billboards because the logo will be seen only when the umbrellas are in use . Put on your creative caps to make it interesting. Use artwork, fun quotes or taglines that sums up your brand profile . You can even adopt an understated theme by placing your message on the inner panels to be seen only by your prospects when they hold it open.
Incredible choices: Though for an average Joe, all umbrellas may look alike; these are available in a wide range of models. Standard umbrellas are probably the most popular model. It is easy to carry around and is used more often while your brand imprinted on it will get a wide angle display. These make great employee gifts as well to show their pride in your organization.
If you are looking for a light weight model, telescopic umbrella will make a great option. The compact storage designs will make it a perfect option for people on the move.
Golf umbrellas are hard to miss and hugely popular among the outdoorsy: Your logo imprinted on these will get a lot of eyes and  will be seen even in TV and media as the camera zooms in during golf events and outdoor  events.
Explore our complete line of umbrellas to find a model that matches your theme.