How to Boost Business with Custom Mini-Umbrellas
Useful promotional gifts like umbrellas can be used to advertise your business without seeming loud or tasteless. If you are looking for a handy and compact umbrella model that will get incredible popularity across all age groups, mini umbrellas will make a great choice. Designed to fit almost anywhere, mini umbrellas are ideal for all weather conditions like sun, rain, snow or wind. Young and old, people from all walks of life will appreciate these logo umbrellas.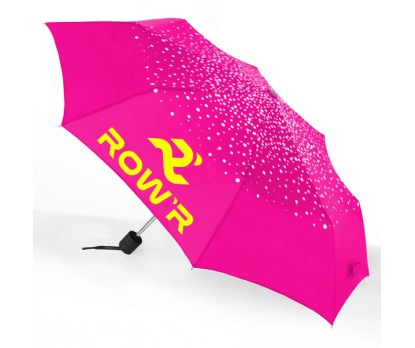 Reports show that people prefer useful promotional gifts than novelty items. For this same reason, logo umbrellas have always been one of the popular items in the marketing mix of marketers. Ideal for all types of events like tradeshows, golf weekends and store promotions, umbrellas will make consistent brand impressions for you during its shelf life. Can't afford to giveaway umbrellas for free? You can even offer to walk people out to their car under your printed umbrella and a business card swap to enhance your brand image.
Portable weather ware items
Mini umbrellas will fit in glove compartment or storage containers in vehicles, which further enhances its popularity across all types of recipients including people on the go. Every time, they have to endure rain or shine, your recipients will think of your business and even be inspired to talk about it in their social circles.
Party props
Brightly printed and stylish custom umbrellas often make photo booth props that people love to pose with to create an oriental charm.  Just imagine the publicity your brand will get in social media pages as your prospects share these brilliant snapshots.
 Holiday gifts
Custom printed umbrellas make great party favors for luau and jungle themed parties, birthdays and more. Make use of the massive canopy of these umbrellas to place your brand and greetings. Mini umbrellas can be considered as handouts during Christmas, family reunion or July 4th events among others.
Company picnic gifts
Planning to organize a company picnic for your employees, clients and their families? Mini umbrellas will make great gifts to create happy memories and remind your audience about the event.
Product launch
Planning an outdoor product launch this summer? Mini umbrellas will make a great choice. Get it imprinted with your logo and message. It will be a great way to celebrate the day for you while your audience gets a great handout that they can actually use.
Mini umbrellas can be matched with your promotional theme as it is available in a wide range of colors and sizes. Choose classic and popular colors that your audience will love to flaunt rather than abrasive colors that stick out odd.  You can order mini umbrellas in bulk to get the best deals. Light weight and budget friendly, mini umbrellas offer a large canvas to advertise on.  You may not find other umbrellas available for less, no matter how small! Shop right away.