Custom Umbrellas Make Popular Merchandise Items For Good Reason
Umbrellas have a high perceived value and high utility, which means more eyes on your logo! The large imprint space is obviously the winning card of custom umbrellas. These make great corporate gifts, promotional items, fund raising items and a lot more. Umbrellas offer a lot of options to consider including golf umbrellas, standard umbrellas, telescopic umbrellas and  a lot more – and in a variety of color choices. You can even Pantone match your custom umbrella so that your corporate message is totally on-brand!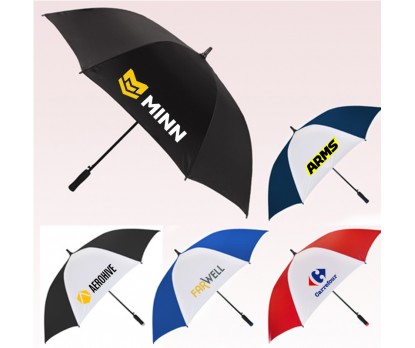 Whether it's a mini umbrella that fits neatly into a handbag or a wooden handle inverted umbrella, we've got you covered- literally. You can choose to get your design imprinted on one panel, alternate panels or even the whole umbrella surface for that ultimate wow factor. The crisp branding and interesting customization options will make these logo items stand out easily.
Designing your own custom umbrellas will create brand awareness and better exposure to your company logo. These practical, everyday items will make useful handouts for employees and customers during any promotional event or occasion.
Whether you consider these as awareness gifts, fund raising items, tradeshow swag or team spirit items, you have perfect branding opportunities when you give away umbrellas imprinted with your brand. The best part is that your recipients can use these items for a long time after your event, which means your brand will get countless impressions without any repeat effort or investment!
Multipurpose umbrellas like beach umbrellas are not just for the sandy shores but help you make the most out of every promotional opportunity outdoors. Easy to transport and set up, these brilliantly colored umbrellas make an eye catchy way to talk about your business to your audience. Designed to withstand wind and outdoor elements, these large outdoor umbrellas  are available in different sizes to put your brand forward.  These can be used as shade umbrellas during outdoor events and also be used indoors at event spaces or lobby to create  a bespoke business area.
Umbrellas make a great investment for your business thanks to its long retention. All you need to do is think of a creative design or a tagline to make it an interesting way to converse with your audience. Whether you use it at the beach or the pool at a tradeshow, art fair or sports grounds, these umbrellas will always garner easy attention, which means your message and artwork imprinted on these will get a lot of attention.
Have you been using logo umbrellas for your business promotions? Share your thoughts