Custom Patio Umbrellas –  Make Your Summer Outdoor Promotions Special
Patio umbrellas are a super smart way to brand businesses and get your logo stand out at an outdoor environment. Patio umbrellas are not just for restaurants and bars, but for all types of businesses. Turn your patio or garden into a welcoming area for the summer crowd and festival goers. You can use it as a shade from the sun anywhere while promoting your brand.  The full color imprint on these massive umbrellas will stand out easily and turn heads.
Wide and wonderful, patio umbrellas are perfect for regular outdoor exposure on patios, sidewalks, or anywhere else you may want to provide shade. Choose from a wide range of models like wood or fiber glass models. You can even opt for unique models like USB umbrellas that will bring together the functionality of USB drives with umbrella! A tilting umbrella that can be angled to protect against sunlight coming from any direction is a good choice to consider for wide open spaces and sun lit areas.
 Designed to withstand heavy wind and outdoor elements, patio umbrellas will add a dramatic charm to even a nondescript and simple event setting. Designed to make a remarkable presentation of any brand, these outdoor umbrellas are simply the best to get people talk about your brand! Add a festive flair to your summer promotions and get the eyes of the parade attendees and outdoorsy crowd with these attractive full color umbrellas.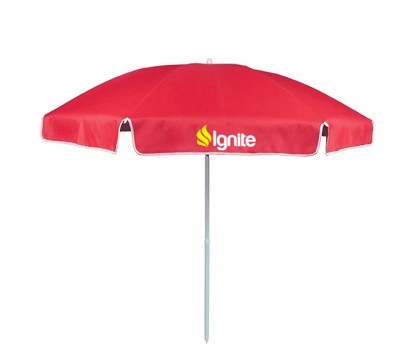 Sunny days will encourage people to go out and indulge in their favorite outdoor activities. These lively patio umbrellas make the perfect way to get people do just that. The best part is that these double up as advertising billboards for your message. These will provide shade from sun and rain and make great photo props too.
Make use of the large canopies to place your logo , artwork or summer deals to get all eyes on it. In a way, patio umbrellas make massive billboards that will scream your message without being intrusive. Your logo can't help but be seen on one of our fantastic logo patio umbrellas!
The shape of the patio umbrellas will depend on the area you wish to shade, the space available, and the look you prefer. Ideally the umbrella should have a larger diameter than the area to be covered. Some of the common shapes include round, rectangle, and square.  If you wish to shade dining table and chairs, a large rectangular umbrella may be needed while a round umbrella will be suitable to shade a pair of chaise lounges. Consider your promotional need before finalizing the model for the best results.
 Are you planning to make patio umbrellas your summer promotional staples this season? Share your thoughts with us on our facebook page.