Custom Umbrellas – The Best Handouts To Show That You Care For Your Prospects
Show that you care for the welfare of your clients by handing out custom umbrellas that keep them safe from elements. In return, you get a grand brand display every time your recipients pop out for lunch or shopping carrying a fine quality umbrella that represents your company. Umbrellas make great handouts for employees, clients, friends or family thanks to its high utility and versatility.
Why umbrellas
Everyone needs umbrellas to stay safe from bad weather and enhance their outdoor style. Ideal for all 4 seasons, these logo items of high perceived value will make perfect handouts for high value clients and long term employees that truly deserve something truly exceptional.  The large imprint surface and the incredible choices on offer are the trump cards of custom umbrellas as promotional items.
No matter whether you prefer pint sized and compact models like telescopic umbrellas that will fit easily into bags and purses or something massive like  beach umbrellas, there is surely an umbrella out there that will meets all your needs!
Compact Umbrellas
Compact umbrellas like auto open models or mini umbrellas are simple and portable, which makes it a great choice for people on the go. These small folding umbrellas travel with your recipients everywhere, all the while putting your message on a wide display infront of the world outside.
Consider your target demographic to see whether this model will fit their needs and life style. With the right branding, these umbrellas will stand out  in the crowd. So, if you have a mobile audience with an active life style, this model could well be the choice. It will come handy in multiple situations and your recipients will indeed be impressed by this fabulous gift choice.
Custom Golf Umbrellas
Custom golf umbrellas are well known for their generous imprint space and large canopy. These umbrellas will not just protect the users from elements but will ensure a classic display for your message in the golf greens and beyond. These umbrellas feature premium construction and are lightning resistant, sturdy, wind proof and light weight.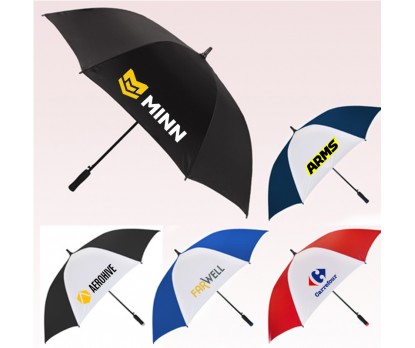 Offered in a palette of vibrant colors, these umbrellas will make an ever-lasting impression on anyone who sees it and your brand on it will certainly be remembered. If you have an outdoorsy crowd to cater to,  golf umbrellas will be great choice to meet their needs and fulfill your branding needs.
Did you find this post useful? Watch our daily blog posts to stay on top of the trends of custom promotional umbrellas