Promotional Hook Handle Umbrellas- Handouts with a Classic Touch
Promotional umbrellas are undeniably one of the most popular categories of products in corporate gifts.  Your logo and message imprinted on umbrellas will be familiar to the user right from the moment it is first held.  Umbrellas are available in a wide range of models including classic, trendy and even quirky models like inverted umbrellas.
If you have a corporate audience, classic umbrellas will make a safe bet. A hooked handle umbrella not just grabs easy attention for its unique design but will leave a retro twist to your promotions as well. Always in trend, these hook handle classic umbrellas are here to stay forever.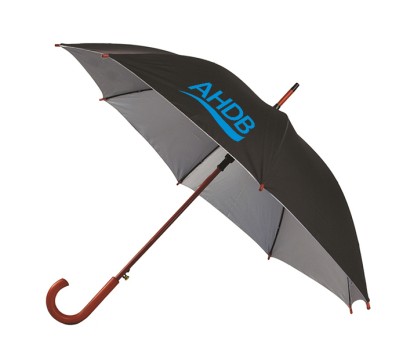 Why Choose a Hooked Umbrella
#1 A hook umbrella is visually appealing and will impress everyone with its classic design that is hard to resist.
#2 Hook handle is easier to hold even in high wind conditions and is ergonomic. Your recipients will indeed be thankful for your brand for choosing a model like this.
#3: Ideal to carry when not in use, hook handle umbrellas often double as walking stick for the elderly.  Plus it can be hooked on the railings and seat frames while travelling in public transport thereby freeing up the hands of the users.
Now that you are impressed by the features of hook handle umbrellas, it will be interesting to explore the various models
60 Inch Arc Custom Auto Open Wood Shaft and Hook Handle Umbrellas The wood shaft and wooden hook handle rounds off the profile of this classic umbrella in style. Designed to make heads turn, these elegant umbrellas stand out for its fashionable metal rib tips, durable frame and wooden shaft. Your logo and message imprinted on the canopy of these umbrellas will get a lot of eyes for sure.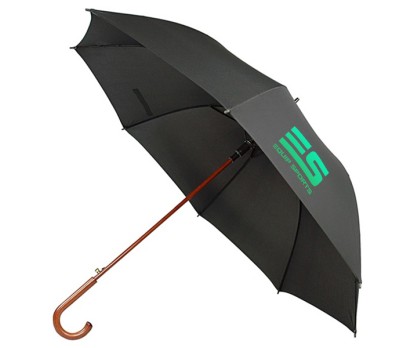 Auto Open Umbrellas with Hook Handle The black outer canopy and the light shaded contrasting inner canopy is the main feature of these handy auto open umbrellas. Large 48" arc and wind resistant features will make these umbrellas a reliable  choice even in challenging weather conditions. You can easily save on bulk orders of these auto open umbrellas with hook handle. These elegant umbrellas will make a great choice for high value clients and corporate events where  you need something exceptional.
48 Inch Arc Customized Auto Open Umbrellas with Hook Handle : Another interesting model in hook handle umbrellas, these umbrellas will leave your  recipients truly impressed with its large canopy and sturdy frames. Particularly well suited for fundraisers, community service programs, employee encouragement programs and more, these umbrellas can easily highlight your brand information across  its impressive classic brown colored canopy.
Are you planning to make hook handle umbrellas your swag? Share your thoughts with us on our facebook page.