Custom Umbrellas- The Classic Gifts That Are Never Overlooked  
Custom gifts are proven marketing strategies to drive your brand impressions. If you are not sure which custom gift will leave your audience impressed, umbrellas have to be the best solution to this age old dilemma. Not only umbrellas are popular these are versatile as well, which makes it a great choice for a wide range of business situations.
The wide range of styles and the high level branding opportunities will make these classic  gifts a must- have item for marketing. Choose a popular model in your brand color and add your custom message so it can't be missed.  You have many more reasons to find some room in your marketing budget for custom umbrellas.  Your message and contact information imprinted on these will make a high visibility billboard for your business.
 The large scale opportunity for branding available on umbrellas is what makes these logo items unbeatable. You can literally print anything you like on the massive canopy of umbrellas to create a message which nicely plays off the product and adds value to your marketing. Think about how your company can make use of umbrellas with some creative customization.
Functional, fashionable and well retained, umbrellas are available in various models to suit  different life styles. From golf umbrellas to standards umbrellas, inverted umbrellas and so much more, you have something special for everyone!
 Well retained and used regularly, custom umbrellas will make consistent impressions for a long time. The wide canopy will ensure that your branding is even more easily noticed than it would be otherwise.  Choose from a wide range of colors and create a promotional gift idea which is unique to your company and which highlights your company logo.
If you are looking for a popular, practical gift which people will use regularly, it is hard to resist custom umbrellas. For instance, golf umbrellas or beach umbrellas are great additions to any outdoor events and beach activities. These colorful and massive umbrellas will never fail to highlight your message in style not just among your target audience but everyone around as well.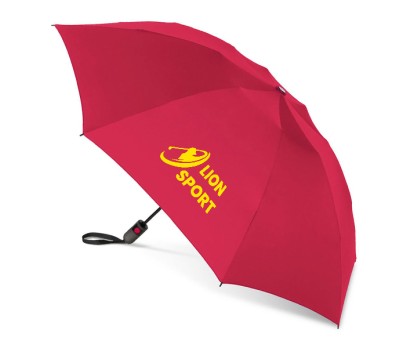 For people who travel long distances there can be few better travel companions than standard umbrellas. It will make a handy way to stay safe from bad weather for your recipients and enable them to continue with their travel plans undeterred and make it enjoyable to the extent possible.
 If you are on the lookout for a promotional product which has broad ranging appeal, you can't go wrong with custom umbrellas. With its all year round utility and popularity, custom umbrellas fare better than most other classes of promotional items.
Feeling overwhelmed to choose the right umbrella from scores of models and price rates? Leave this challenging task to us and make use of the tips from our product experts to make it easy as never before!