Promotional Umbrellas – The Promo Gift for All Seasons
We have been hearing about the change in climatic conditions and increase in UV radiations on earth.  Staying safe from UV risks has become crucial for everyone.  This is one of the many reasons why your investment in promotional umbrellas is will continue to ensure return in terms of brand awareness and equity long into the future.
Custom umbrellas are useful all round the year and not just during summer. Available in a wide range of models and sizes, umbrellas offer a fashion twist to the ordinary weather wear items as well. Choose from a wide range of trending models like hands free umbrellas, inverted umbrellas and full color umbrellas among others to impress your audience and put your brand on a wide display.
Did you know that custom umbrellas enjoy a very high retention of over one year? So, just imagine the display your brand will get on these everyday items as your recipients go about their daily errands, set out on a holiday or  outdoor fun.
Golf umbrellas make formidable marketing tools for businesses and to reach out to the elite league of customers. Golf greens often set a perfect backdrop for businesses to make deals. Light weight yet sturdy and lightening resistant, these massive umbrellas offer a great imprint space for your logo and business. Whether it is on one panel, alternate panels or the whole umbrella, your logo will get a great display on golf umbrellas. Choose from various fabulous color choices including solid colored models, striped panels and full color digital imprint models that are designed to turn heads!
Custom umbrellas are versatile handouts which everyone appreciates.  These even make great fashion accessories and photo props during weddings and other events. Umbrellas have indeed come a long way since its inception of being plain and boring black canopies to something spectacular!
Combo models like flashlight umbrellas or speaker umbrellas will underscore this fact. These models are hugely popular among the outdoorsy, active crowd and your logo imprinted on these umbrellas will get all eyes on it easily.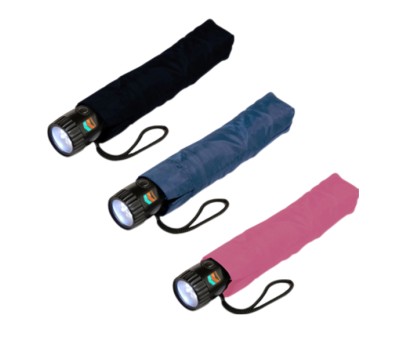 Antiwind umbrellas are welcome addition to any home or office. These are designed to withstand heavy wind and won't get blown inside out like ordinary umbrellas. It will be a relief to at last have a sturdy and reliable umbrella that can stand up to the bad weather elements and keep your recipients safe.
We have a lot more interesting options to consider. Tell us your promotional needs and budget and we can help you handpick a perfect model that will meet your promotional goals.